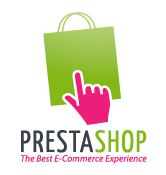 By partnering with innovative companies like Give.it, we continuously improve our software to help our online merchants succeed.
Miami, FL (PRWEB) April 16, 2014
PrestaShop, the leading ecommerce software solution powering over 165,000 online stores worldwide, has teamed up with Give.it, a social commerce solution that streamlines gifting transactions, to offer PrestaShop's online merchants a gift giving solution.
According to Hubspot, 64.8% of consumers use social media to find the perfect gift. For PrestaShop merchants to capitalize on this growing trend, Give.it and PrestaShop have partnered to provide a new social giving module. When configured to a product, this module engages both the gift giver and receiver to easily complete gift transactions. With this interactive experience, the gifter selects and pays for the product then the recipient selects their preferences and ships the product to a preferred address.
This streamlines the gift giving process and allows PrestaShop's online merchants to capitalize on impulse purchases. The Give.it module also helps increase ecommerce gift sales by promoting products as gifts and leveraging social media.
"By partnering with innovative companies like Give.it, we continuously improve our software to help our online merchants succeed. This powerful module is customizable and easy to use, which allows online retailers to stay current with the latest ecommerce trends. Their transaction based payment model allows Give.it to be installed and run without any upfront costs," says Andrea O'Hayon, Merchant Success Specialist at PrestaShop. "Access to the best technology should not be limited by upfront fees, which we, as an Open source company strongly believe in."
Give.it CEO Erwin van Kralingen adds, "Partnering with PrestaShop allows us to tap into their growing base of over 165,000 stores. These online merchants vary not just in their global reach but also in the assortment of products they sell. This is a significant milestone for our mission to bring the benefits of online gifting to web stores worldwide."
Give.it's module for PrestaShop seamlessly integrates on PrestaShop stores. PrestaShop merchants using versions 1.4 and above can start simplifying gift giving for their customers for free by downloading the Give.it module on PrestaShop's Official Marketplace.
About PrestaShop
PrestaShop is a free and open source Ecommerce software powering over 165,000 active online stores worldwide. Recognized as the world's most powerful, flexible and internationalized Ecommerce solution, PrestaShop provides online merchants with hundreds of innovative tools to build and manage a successful online store at no cost. Used in over 160 countries and partnered with the most renowned names in the industry, PrestaShop continues to revolutionize online retail with technology that increases sales and maximizes visibility. Working hand in hand with its growing community of more than 600,000 dedicated members, PrestaShop's entrepreneurial team is made up of Ecommerce enthusiasts that are committed to the success and profitability of their online merchants.
PrestaShop, which has offices in Miami and Paris, is the proud two-time winner of Packt Publishing's Best Open Source Business Application, winner of Europe's Bsoco Award in the 2013 CMS category and rated #1 Open Source Shopping Cart by EcommerceBytes Sellers Choice Awards 2013. For more about PrestaShop visit http://www.PrestaShop.com, follow @PrestaShop on Twitter, and Like Facebook.com/PrestaShop.
About Give.it
Give.it is on a mission to change the face of online gifting. The company facilitates gift giving transactions for online merchants through an innovative social e-commerce service. The Give.it button can be embedded on any website or online shop, enabling merchants to start selling their products as gifts in an easy and engaging way.
Give.it was founded in 2012 and is led by Amsterdam-based entrepreneurs Erwin van Kralingen and Filip Mertens. The company is funded by a group of European angel investors.