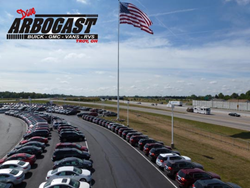 Dave Arbogast Buick GMC has more than 500 positive online reviews from satisfied customers.
Troy, Ohio (PRWEB) April 18, 2014
The entire Dave Arbogast Buick GMC team is thrilled to announce Dominion Enterprises, the country's leading aggregator of automotive data, has once again selected the dealership as the #1 used car dealer in the Greater Dayton and Miami Valley region of southwestern Ohio. This marks the third consecutive year in which Dave Arbogast Buick GMC has earned this prestigious distinction.
As one of the highest-volume used car dealers in the state of Ohio, Dave Arbogast's dealership was a clear front-runner for this award during the 2013 sales year. Between January 1, 2013 and December 31, 2013, the outlet's experienced sales professionals closed 2,313 used car sales. This exceeded total sales at any other Dayton-area dealership.
Additionally, Dave Arbogast Buick GMC's sales volume was sufficient to earn it 12th place among all Ohio dealerships in Dominion Enterprises' comprehensive review. As these statewide rankings pitted Mr. Arbogast's business against much larger dealerships in busier, more populous Ohio markets like Cincinnati, Columbus and Cleveland, this distinction is particularly impressive.
As a fixture in the Dayton region for more than 20 years, Dave Arbogast Buick GMC has built an unparalleled reputation among local car-buyers. The dealership has more than 200 high-quality used cars in stock across 25 different brands. According to Carfax's comprehensive analysis, it also boasts the area's largest selection of one-owner vehicles.
Although Mr. Arbogast's high sales volume and robust, varied selection of used vehicles were the principal determinants of its coveted first-place ranking, Dominion Enterprises also accounted for the dealership's impressive customer-satisfaction ratings and consistently high quality of service. Dave Arbogast Buick GMC has more than 500 positive online reviews from satisfied customers and has earned a nearly unprecedented "4.9 out of 5" rating from DealerRater.com, an impartial aggregator of consumer reviews for car dealerships across the United States. The organization has earned an identical "4.9 out of 5" rating from Cars.com, one of North America's largest car-finding websites.
Dave Arbogast Buick GMC's top rating owes much to the dealership's detail-oriented approach to the business of sourcing and selling pre-owned vehicles. The company's famous "MVP" - market value pricing - guarantee involves the continuous aggregation of pricing data from thousands of dealer websites to ensure that prospective customers get the best possible price on their vehicles.
Mr. Arbogast's attentive sales team eschews hard-nosed negotiating tactics and transparent gimmicks in favor of an honest approach to buying and selling that enhances customer satisfaction and reduces misunderstandings. Additionally, Dave Arbogast Buick GMC has earned a formidable reputation for providing accommodating financing terms for customers of all means and budgets.
Dave Arbogast Buick GMC ensures the quality of its offerings by subjecting each pre-owned vehicle to a thorough inspection that uncovers and corrects potential problems and defects. The dealership's top-notch service team is committed to upholding Mr. Arbogast's strict quality standards and ensures that each vehicle is sold off the lot in top working order. As the #1 used car dealer in Greater Dayton and the Miami Valley for the third consecutive year, Dave Arbogast Buick GMC looks forward to serving the region's drivers for another record-breaking season.
About Dave Arbogast Buick GMC
Since 1992, Dave Arbogast Buick GMC has connected Dayton-area car buyers with the Miami Valley's best deals on more than two dozen brands of pre-owned vehicles. With a spacious, stunning showroom and a comprehensive service area that was constructed to GM's exacting standards, the state-of-the-art dealership served as a "prototype" facility for dozens of GM dealerships throughout the 1990s and 2000s. In addition to its impressive lineup of new and used cars, Dave Arbogast Buick GMC sells RVs, watercraft, travel trailers, fifth wheels and other specialty vehicles.
For more information about Dave Arbogast Buick GMC, navigate to Dave Arbogast Used Car Depot, call 888-919-1635 or visit the dealership's physical location at the corner of Highway 25A and I-75 in Troy, Ohio.