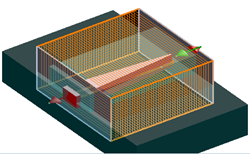 The EME method is well suited to rapidly evaluate long waveguide structures where other rigorous methods like FDTD can be computationally intensive.
Vancouver, B.C. (PRWEB) April 16, 2014
Lumerical Solutions, Inc., a global provider of photonic design software, today announced the filing of a provisional patent application titled, "Method to improve the accuracy of mode matching methods such as eigenmode expansion or rigorous coupled wave analysis." The provisional patent application, filed with the US Patent and Trademark Office on April 1st, 2014, describes a Continuously Varying Cross-sectional Subcell (CVCS) method to enhance standard eigenmode expansion (EME) calculation techniques, particularly in waveguide structures with continuously-varying cross sections or material properties. Target applications in the field of silicon photonics and integrated optics include tapers, spot size converters, y-branch splitters, directional couplers and waveguide Bragg gratings incorporating smoothly varying refractive index profiles.
"The EME method is well suited to rapidly evaluate long waveguide structures where other rigorous methods like FDTD can be computationally intensive and time consuming," according to Dr. James Pond, CTO of Lumerical Solutions. "It took a great deal of effort for my team to develop an extension to the standard EME approach, valid in both 2D and 3D, that offers FDTD-like accuracy for long structures employing continuous material or geometric variations. I am excited to work with our customers to apply this new solver to their most challenging waveguide component designs and help them get the results they have come to expect when working with Lumerical."
The standard EME method represents continuously varying structures, such as tapers, with a staircase approximation to resolve geometrical or material variations along the direction of propagation. This leads to non-physical reflections and calculation inaccuracies. The typical workaround involves increasing the number of expansion interfaces, which results in increased computational costs, both in terms of time and memory. Lumerical's CVCS method avoids this staircasing effect and, through extensive benchmarking versus 3D finite-difference time-domain (FDTD) simulations for a wide variety of waveguide structures, offers excellent accuracy at a fraction of the time for longer structures.
"In discussions with customers during our product planning sessions, there was very strong interest in seeing Lumerical develop an eigenmode expansion propagation tool," stated Bill De Vries, Director of Product Marketing at Lumerical Solutions. "We are working alongside leading customers during development to ensure it meets their expectations regarding compute time, accuracy and usability. Given our progress, I am confident our EME will be a very powerful addition to Lumerical's photonic design and analysis software."
Lumerical's EME propagation tool will be released as an extension of its MODE Solutions product in May, 2014. To learn more about Lumerical's CVCS-enhanced eigenmode expansion tool, visit http://www.lumerical.com/eme.
About Lumerical
Since its inception in 2003, Lumerical has pioneered breakthrough simulation technologies that help bring new photonic product concepts to life. By empowering research and product development professionals with high performance photonic design software that leverages recent advances in computing technology, Lumerical helps optical designers tackle challenging design goals and meet strict deadlines. Lumerical's design software solutions have been licensed in more than 30 countries by global technology leaders like ASML, Bosch, Northrop Grumman, Olympus, Philips, Samsung, and STMicroelectronics, and prominent research institutions including Caltech, Harvard, Max Planck Institute, MIT, NIST, University of Tokyo and the Chinese Academy of Sciences. Discover how Lumerical can help you meet your own design objectives by visiting us online at http://www.lumerical.com.
Contact
Todd Kleckner
Lumerical Solutions, Inc.
604-733-9006 Ext. 201