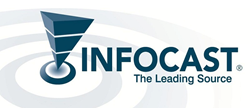 70% of crude oil is now moved by rail.
Woodland Hills, CA (PRWEB) April 22, 2014
Infocast, the leading business intelligence and networking events producer in the oil and gas industry, is proud to announce the ShaleRail 2014 Summit, scheduled on June 25-26, 2014 in Houston, Texas and conveniently co-located with our inaugural Petrochem Tank Car 2014 Summit.
Rail-based crude oil shipments provide flexibility by giving producers and refiners the option of short-term rail contracts versus long-term pipeline commitments. As a result, approximately 70% of crude oil is now moved by rail. MLPs have taken advantage of the existing opportunities and have made significant investments in developing supporting infrastructure, including the build out of rail terminals, transloading facilities and rail cars.
As crude-by-rail expands and plays a more prominent role in the transport of crude, stakeholders along the crude oil value chain – from wellhead to refinery – must understand what needs to be done to truly take advantage of the opportunities that exist within this "pipeline on wheels" phenomenon.
At Infocast's ShaleRail Summit, E&Ps, midstream companies, railroads, railcar manufacturers terminals, refineries, and the investment community will come together to strategize, assess opportunities and develop a comprehensive crude-by-rail approach to maximize profitability while keeping costs down.
Attend to learn the current constrained links in the crude-by-rail value chain, what infrastructure needs to be built-out, how pipeline and rail intersect most profitably, how rail operators plan to meet the demands of producers and refiners, how rail can stay competitive and the longevity of crude-by-rail.
Also, don't miss the co-located event Petrochem Tank Car 2014 Summit on June 24,2014 in Houston, Texas!
For more information, to register, or to join us as a sponsor, visit the event website at infocastinc.com/events/shalerail or contact Infocast at 818-888-4444.
About Infocast
For over 25 years, Infocast has produced the highest quality events, tailored to the needs of the industries we serve. We intensively research the marketplace, pulling from an extensive network of experts to give you the information and connections to succeed.