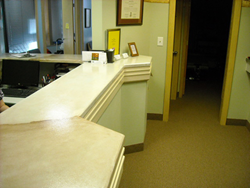 Oklahoma City, Oklahoma (PRWEB) April 17, 2014
The Stamp Store, a longtime industry leader known for providing advanced decorative concrete products and professional training, has released their newest option in cement countertop products – the enCOUNTER System.
Concrete has long been the most commonly used and most affordable construction material, but it's only been recently that it has really seen significant uptake as an interior construction material. The Stamp Store offers cement countertop products within the enCOUNTER system to help create durable, beautiful, custom counters for any home or business.
The enCOUNTER system creates a custom countertop for any application, allowing professional contractors to create the ideal size, width and thickness for each customer.
The enCOUNTER system includes a number of other products that build on the base capabilities. These cement countertop products include enMAGIC, which provides the ability to texture the surface of the counter. The enCOLOR product allows contractors to integrally color the concrete to achieve a solid color prior to pouring. The enFORM product lets contractors create textured edges for a nontraditional look.
enPOXY and enSPARTIC provide protection to the poured concrete and provide a polished, professional look. Finally, enFORCE and enFLOW are used to help create and strengthen concrete countertops thinner than one inch, providing a slimmer look and less weight.
The Stamp Store's new cement countertop products ensure that contractors and homeowners are able to create customized concrete counters for any room in the home, from the kitchen island to the bathroom vanity and everything in between. More cost effective than natural stone, longer lived than laminates, cement countertop products offer outstanding return on investment, and will still look great decades down the road.
To learn more about The Stamp Store's cement countertop products and other decorative concrete solutions, visit the company at http://www.JourneyEd.com.
About The Stamp Store: The Stamp Store was established in 1990 as the first dedicated decorative concrete solution for the Oklahoma City area. Today, The Stamp Store provides decorative concrete products and systems to professionals as well as homeowners all across the nation.