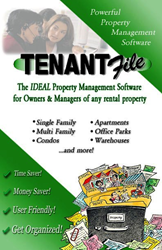 Many property managers are greatly concerned about the safety of their data in the cloud.
Austin TX (PRWEB) April 16, 2014
The infamous 'HeartBleed' bug opens a hole in security for SSL (https) data transmissions, which are commonly used in online applications. The issue has affected a large part of the Internet, including financial websites, cloud computing websites, and other websites throughout the world. Internet users have been urged to change their login passwords for websites that contain valuable data such as financial data. This is especially true of property management websites running applications that use the open SSL functionality. Since cloud-based property management software typically contains confidential information about both tenants and owners of rental property, social security information, bank accounts, this breach is of great concern.
Many users of the Tenant File Property Management Software have been drawn to the fact that the program is desktop based, not cloud based. The critical information is safely stored on the user's computer, not on remote servers in the cloud. This confidential data is easy to back up and retrieve. The Internet interactive functions of the Tenant File are secure and no confidential data is transferred to financial sites.
Wayne Gathright, president of W G Software Inc., which owns the Tenant File application stated, "Many property managers are greatly concerned about the safety of their data in the cloud." He continues, "With the Tenant File, we have been able to retain the security of private computers, yet still provide the necessary features such as uploading vacancy information to a website and ACH transfers to and from the application."
With the large number of website hacking issues, the public is becoming aware that their data is not as safe as they have been told. From NSA information gathering to retail store data thefts, to major website attacks, real estate owners are demanding that the software containing their valuable information is kept secure.
About the Tenant File
The Tenant File is a software solution for owners and managers of rental property. It offers comprehensive features for large or small managers, for single-family homes, multifamily, commercial rental property and apartments. With a one-time pricing structure, the Tenant File is one of the most popular software products for landlords on the market. To see a video of the Tenant File, please visit http://www.tenantfile.com/TFVideo/Tenant%20File%20Brief%20Overview.html.