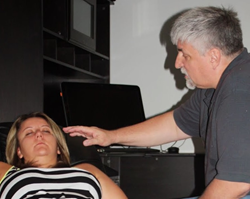 I enjoyed the "Meat & Potatoes" aspect of the class. I am very happy that I found Omni! - Guy Michaels, CHt & Stage Hypnotist.
Crofton, MD (PRWEB) April 17, 2014
The Omni Hypnosis Training Center® of Washington DC announces two options for obtaining basic through advanced hypnosis certification training. These options help those students who can't take a full week off work to attend training, by giving them the option of going on weekends, with one of those a three day weekend. The seven consecutive day course format ( June 7-13, 2014) is for those people who desire the training be presented in a focused manner without interruption. The weekend training will take place June 7-8, June 14-15, and June 28-30 at Galaxy Hypnosis in Crofton, MD. The Omni Hypnosis Training Center® of Washington DC uses time-tested instructional techniques to help the student learn, gain hands-on experience, and build confidence. Instruction on the most advanced techniques enables students to guide almost anyone quickly and easily into a deep hypnotic trance. Students learn the secret of when and how to give direct suggestions that are effective and permanent within the client. Each student will have the opportunity to learn the latest hypnotic regression and transformational techniques which will enable them to identify and locate the cause of their client's problem, thus affording their client rapid, positive change. This training is an actual hands-on application and not just lecture, theory, and videos! Skills and abilities are developed in a supportive environment with humor and continual encouragement.

Learn the skills, step-by-step, to be a successful hypnotist.
Practice time-tested, proven, and easy-to-learn techniques.
Gain the confidence and knowledge you need to become a certified hypnotist.
Experience high-energy instruction guaranteed to keep you excited and engaged.
Discover how to use effective, no-frills techniques not taught elsewhere.
Omni Hypnosis Training Center® of Washington DC is the most complete and organized examination preparation class for hypnotism available today. It uses lecture, audio-visual aids, demonstrations, and hands-on application, along with follow up question-and-answer periods. Upon successful completion of the course, graduates will receive an Omni Hypnosis Training Center certificate, will be certified by the National Board of Hypnosis Education and Certification (NBHEC), and may use the credential Certified Hypnotist/Certified Hypnotherapist (CHt).
Larry Lambert, director of the Omni Hypnosis Training Center® of Washington DC is excited to be able to provide this quality hypnosis training program to the Washington DC metro area, convenient to the District of Columbia, southern Maryland, and northern Virginia. Larry's life was transformed by his hypnosis training under Gerald Kein, founder of the original Omni Hypnosis Training Center®. Larry finds his work as a hypnotist to be incredibly rewarding and it is his calling to share that experience with others. He believes that providing people with a means to making positive change in their lives helps make the world a better place. Call 301-202-3605 today or visit our web site at http://www.omnihypnosis-dc.com to learn more about Omni Hypnosis Training Opportunities.
About Omni Hypnosis Training Center® of Washington DC: Omni is owned and operated by Larry Lambert. The training center is co-located with Galaxy Hypnosis, 1667 Crofton Center Suite 4, Crofton, MD 21114. Hypnosis training and supportive hypnosis services are available from this fully-certified hypnosis practice.