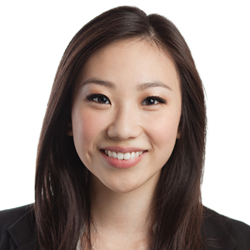 Making my transition to real estate sales is a natural extension of our who I am–I am excited to help with the acquisition and sale of real estate.
San Francisco, CA (PRWEB) April 16, 2014
San Francisco-based Climb Real Estate Group is pleased to announce their affiliation with Jessica Kung, who will join the real estate team as Sales Associate. A newly licensed real estate agent, she will be working with buyers and sellers of residential homes, luxury condos, modern lofts, and new construction throughout the city of San Francisco. Kung also supports the team of Montgomery + Lee Associates under top producing Climb agents Marcus Lee and Todd Montgomery.
"As a new agent, I am thrilled and honored to have the opportunity to be able to learn from and work alongside such experienced and accomplished real estate professionals. Climb is an innovative and exciting real estate company that has been a tremendous inspiration to me in business and philanthropy," says Kung. "Making my transition to real estate sales is a natural extension of our who I am–I am excited to help with the acquisition and sale of real estate."
As a San Francisco native and resident of over 20+ years, Jessica Kung has been surrounded by real estate since a young age, as her family owned and managed properties throughout San Francisco. She hopes to take the invaluable knowledge she learned while growing up about the ever-changing real estate market in San Francisco to help her clients get the best deal.
When asked about her specialties, Kung said, "I believe that buying real estate is not just a business transaction, but a personal and life-changing decision that involves careful planning and the utmost care. As a passionate real estate professional, I vow to help my clients feel comfortable and confident in their real estate investment, and to assist them throughout every step of the entire process to the best of my ability. Whether it be the luxury condo, modern loft, new construction, or residential home market, I aim to bring a competitive and creative edge to helping my clients find and purchase their ideal home."
Jessica Kung's professional affiliations include the National Association of Realtors, California Association of Realtors, and San Francisco Association of Realtors. She is also fluent in Mandarin and is a proud member of the Asian Real Estate Association of America and Chinese Real Estate Association of America.
Jessica attended New York University where she graduated with a B.S. in Nutrition and Dietetics and minor in Psychology. Jessica has been dancing since the age of 7 and attended New York University's Tisch School of the Arts dance conservatory while in New York City. In addition, she was a nationally competitive rhythmic gymnast for 6 years and ranked third at the Junior Olympic Rhythmic Gymnastics National Championships in 2001. In her spare time, Jessica enjoys dancing, practicing yoga and Pilates, cooking, traveling, and discovering new places to eat, new corners to explore, and new people to meet in the city.
ABOUT CLIMB REAL ESTATE
Climb Real Estate Group is a full-service general real estate brokerage with an emphasis on the purchase, sale, rental, and marketing of select residential new developments, commercial, and premier resale properties. They specialize in condos, high rises, lofts, and homes in SOMA, South Beach, Mission Bay, Rincon Hill, Potrero Hill, and Central Waterfront. Their focus is on urban-style properties, specializing in new construction, historic loft conversions, live/work spaces, Victorian flats, modern condominiums, and stylish single-family homes. They also have exclusive access to off-market listings, foreclosures, and developer specials.