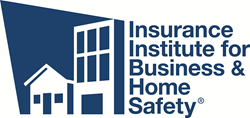 Tampa, FL (PRWEB) April 16, 2014
Tornado season in the U.S. traditionally starts in April and, true to form, several tornadoes have been confirmed in Mississippi, North Carolina, and Texas since the beginning of the month. Unlike previous years, however, a strong tornado has yet to strike anywhere – including Oklahoma, which is unusual. The Insurance Institute for Business & Home Safety (IBHS) wants to remind residents not to be complacent and take steps now to protect their property and families before the next tornado strikes.
"The quiet start to the season isn't a time to adopt a lax attitude about tornado preparedness," said Julie Rochman, president & CEO of IBHS. "There's not much you can do to safeguard your home from the most severe tornadoes, such EF 4s or EF 5s. When these violent storms approach, please seek refuge in a storm shelter. There are measures homeowners can take to reduce damage and increase the chances their homes will remain intact after the less violent storms pass, or if your house is located on the edges of a severe tornado."
About 1,000 tornadoes occur annually in the U.S., according to the National Oceanic and Atmospheric Administration (NOAA). IBHS encourages residents to start tornado preparedness efforts now. Below are improvements you can make to your home to lessen the damage from a tornado:
1. Consider landscaping with mulch rather than rock or gravel materials, which can become dangerous flying debris during high winds.
2. Keep trees and shrubbery trimmed. Cut weak branches and remove any trees that could fall on your home.
3. When a tornado threatens, remove anything from your yard or around the outside of the house that could be picked up by high winds, such as lawn furniture, grills, toys, and water hoses. Anchor heavier yard objects deep into the ground.
"Tornadoes are powerful and destructive natural disasters that can occur with little to no warning and leave a trail of devastation in their wake," Rochman said. "It's important for homeowners to act now to reduce losses and lessen the impact of damage caused by these catastrophic windstorms."
About The Insurance Institute for Business & Home Safety (IBHS)
IBHS is an independent, nonprofit, scientific research and communications organization supported by the property insurance industry. The organization works to reduce the social and economic effects of natural disasters and other risks on residential and commercial property by conducting building science research and advocating improved construction, maintenance and preparedness practices.