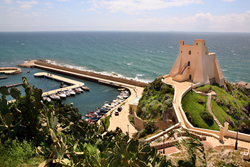 Somerville, MA (PRWEB) April 16, 2014
The ancient, but ever so modern, capital city of Rome offers enough museums, monuments and cultural events to keep visitors busy for at least a week, if not longer. In between the lauded Roman attractions, travelers may yearn for a little quieter adventure off the beaten tourist track. ItaliaRail offers three such destinations, only an hour or so from Rome, and easily accessible by train:
Orvieto
Escape the hustle and bustle of Rome to this charming town in the pristine emerald hills of Umbria. Wander the narrow cobblestone streets, browse through beautiful shops filled with handmade Italian ceramics, linens and glassware. Have lunch at a charming osteria overlooking miles of perfectly, landscaped farmland, and just breathe in the fresh air. The gothic Duomo of Orvieto is the town's most famous landmark. Known formally as the Cathedral of St. Mary of the Assumption, it has been called one of the greatest artistic treasures of the late Italian Middle Ages. Its elements of 13th -14th French Gothic architecture, make it unique compared to most Roman basilicas built at that time, and truly a sight to see. Open to the public everyday, with varying hours depending on the season. Free admission during the week.
From Rome by train: From Roma Termini take the InterCity train to Orvieto station. Travel time is about 1 hour and 15 minutes with fares as low as $14 each way.
Fara Sabina - The Sabine Hills
Despite its close proximity to Rome, only about an hour to the north, the rural Sabine Hills remain frozen in time with beautiful rolling hills, medieval castles, and miles of olive groves to meander through. To make a visit even more memorable, consider taking bikes along. The regional trains from Rome allow bikes on the trains for an extra fee. The National Park Monti Lucretili offers hiking and biking trails through picturesque Italian villages to peaks that offer sweeping panoramic views. Weather dependent, hikers can see as far as St. Peter's Basilica in Rome. The Sabine Hills are known for their production of premium extra virgin olive oil, which has been going on for more than a thousand years. Many well-known chefs swear by the olive oil from this region so be sure to take a few bottles home.
The major towns of the Sabine Hill are connected by regional train. You can hop off in one to explore, then hop back on the train to the next. If you want to venture further into the Hills, bringing a bike is recommended as the area is not well-serviced by taxi or bus. That said, tour company's offer guided half-day tours of the olive groves where they provide transportation. The tours include a stop at a massive, thousand year-old olive tree that still produces these savory, delicate fruits (yes olives are considered a fruit.) and an Olive Oil Museum . Tours can be arranged from Rome or once you arrive in Fara Sabina.
From Rome by train : Roma Tiburtina to Fara Sabina station by regional train takes about 45 minutes. The fare is $4 each way.
Sperlonga
After a few hot days combing the streets of Rome from monument to monument, travelers may find themselves craving the cooler breezes and sandy shores of the Mediterranean. A perfect time for a day at the beach. Sperlonga is one of the most beautiful seaside towns near Rome, that beckons both locals and travelers looking for a beach break from the big city. The town itself is very small with a few quaint shops selling resort - type ware and souvenirs. Restaurants serve typical Italian dishes with an emphasis on seafood. In Sperlonga it's all about the beach. Visitors head down a 10-minute path that leads to blue-green ocean and white-sandy shores. Space to just sit on your own towel or blanket is hard to come by, as the beach is organized into various private beach clubs. Do like the Romans do and rent a private cabana, or an umbrella with two chairs, for about $25 for the day. If you can pull yourself away from the beach, touring the remains of Emperor Tiberius' Villa and Grotto is an interesting diversion. The mostly unpopular ruler of Rome from 14-37 AD, Tiberius had his summer residence in Sperlonga. A few parts of the ancient villa, including a fascinating seaside cave-grotto, remain for visitors to tour along with an adjoining museum of ancient artifacts and statues.
From Rome by train: From Roma Termini to Fondi-Sperlonga station takes about an hour and ten minutes by regional train. The fare is about $11 each way. From the train station, you can grab a bus that takes fifteen minutes to get to the beach.
About ItaliaRail:
ItaliaRail are the experts on Italy train tickets and passes. In cooperation with Trenitalia, Italy's only national railway, ItaliaRail provides a direct connection to Trenitalia's reservation system allowing rail travelers access to the most routes at the best prices. Travelers are able to book in multiple currencies and knowledgeable customer service agents are available to answer questions and give advice on train travel throughout Italy. ItaliaRail was launched in 2005 and is a division of International Rail, LLC.