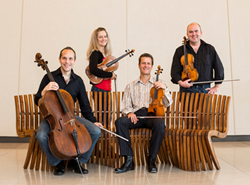 Edgy intensity...
Carmel, California (PRWEB) April 17, 2014
One of the core beliefs held by Chamber Music Monterey Bay (CMMB) is that exposure to newer music is important to the evolution of the living art form of chamber music. It is this belief that has inspired the small but resourceful organization's many commissioning projects, the latest being the innovative and ambitious 4-part "Arc of Life" project. In its final concert of the 2013/14 season on April 25, 2014, CMMB presents Part 3 of the series with the world premiere of George Tsontakis' 'String Quartet #7'.
While the creation of the "Arc of Life" project was inspired by a video installation by California artist Bill Viola, each of the four American composers selected for the project have been given free reign to create a piece that speaks to their own interpretations of Viola's work and draws on inspirations of their own. Part 1 featured a short work by Joan Tower entitle 'White Water' which was premiered by the Daedelus Quartet in April 2012. Part 2 was composed by Pulitzer Prize-winning composer Kevin Puts. His 'Living Frescoes' premiered in October 2012 with Trio Solisti and Jon Manasse on clarinet. The fourth and final installation will feature a work by Christopher Theofanidis and will premiere in April 2015 with the Miro Quartet.
Tsontakis' 'String Quartet #7' is in part inspired by Viola's work but the award-winning composer, a Distinguished Faculty member and Composer-in-Residence at Bard College in New York, has reached beyond the project's primary inspiration and looked to the poetry of Herman Melville, Christina Rossetti and Walt Whitman for his contribution which is the only piece to include a part for voice. Soprano Jessica Rivera, a Grammy Award-winning artist and rising star on the national opera scene, joins the St. Lawrence String Quartet for the world premiere.
The Quartet will round out the April 25th concert repertoire with Haydn's 'String Quartet in E-flat Major, Op. 20, No. 1 ("Sun") and Dvořák's 'String Quartet No. 11 in C Major, Op. 61. A pre-concert Q&A with composer George Tsontakis takes place at Sunset Center, Carmel, at 7:00 PM and is free to attend.
WHAT: St. Lawrence String Quartet with Soprano Jessica Rivera
WHEN: Friday, April, 25, 2014 @ 8:00 PM
WHERE: Sunset Center, Carmel, California
COST: $15 - $56
TICKETS: 831-625-2212 -or- http://www.chambermusicmontereybay.org