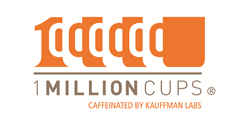 Kansas City, MO (PRWEB) April 16, 2014
Environmentalists and locavores aren't the only ones who think and act locally — entrepreneurs do too. That's according to a new report released today by the Ewing Marion Kauffman Foundation. Presenting findings from a survey of participants at the Kansas City 1 Million Cups entrepreneurship program, the report offers lessons for any city trying to build a strong entrepreneurship community.
1 Million Cups is a weekly event that showcases two startups to engage, educate and connect entrepreneurs through mutual collaboration. Founded in Kansas City in April 2012, it has since expanded to 33 communities in 21 states. The Kansas City 1 Million Cups program is the largest, attracting more than 250 attendees weekly.
"Think Locally, Act Locally: Building a Robust Entrepreneurial Ecosystem" reveals insights into entrepreneurs' behavior patterns, their connections to community programs, and how they gather and disseminate information.
The report combines results from surveys conducted at 1 Million Cups Kansas City, first in November 2012 and second in May 2013. In addition to entrepreneurship being a local phenomenon, other key findings include:

Entrepreneurs follow local entrepreneurs.
Local networks thicken over time.
Entrepreneurial demand is high for peer-based learning and networking.
Different programs reach different entrepreneurs.
According to Yasuyuki Motoyama, a senior scholar in Research and Policy at the Kauffman Foundation and an author of the report, one size does not fit all.
"No one entrepreneurial ecosystem can be served by one program," said Motoyama. "Because entrepreneurs and their business needs are diverse, you need a host of programs to have an effective community."
The report explores four postulates to guide entrepreneurial communities, established by Brad Feld, co-founder of the Foundry Group and author of the book Startup Communities.
"While the value of experience in building startup ecosystems is irreplaceable, having empirical evidence like this validates what I've witnessed in communities all over the world," Feld said. "Though a small sample, this research provides proof that cities can foster entrepreneurship if they follow a few simple guidelines."
Access the complete report here.
About the Kauffman Foundation
The Ewing Marion Kauffman Foundation is a private, nonpartisan foundation that aims to foster economic independence by advancing educational achievement and entrepreneurial success. Founded by late entrepreneur and philanthropist Ewing Marion Kauffman, the Foundation is based in Kansas City, Mo., and has approximately $2 billion in assets. For more information, visit http://www.kauffman.org, and follow the Foundation on http://www.twitter.com/kauffmanfdn and http://www.facebook.com/kauffmanfdn.