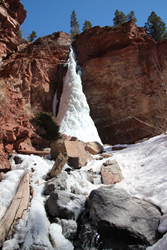 Telluride, Colorado (PRWEB) April 17, 2014
The first Sunday in April traditionally marks the closing of the Telluride Ski Resort and a period of time locals refer to as "offseason" in Telluride, Colorado. While some merchants shut their doors and take a month long hiatus to migrate to warmer climates, a handful stay open providing visitors with quality dining and shopping options. Telluride Alpine Lodging is offering a buy one night get one free online exclusive lodging special through telluridehotels.com allowing those in search of an affordable and relaxing getaway the opportunity to visit the charming mountain town.
Even though it's coined "offseason" there are plenty of attractions to keep vacationers busy. Did you know Telluride, Colorado is home to Bridal Veil Falls, Colorado's longest free falling waterfall? Sightseers are able to drive close to the base of the falls and easily view the waterfall from their vehicle. As the snow continues to melt, hikers are able to walk to the top of the waterfall and enjoy breathtaking views of the Town of Telluride. A short hike to Cornet Creek Falls is another great way to spend the afternoon during "offseason." The trek is less than a mile round trip and offers amazing views of the Telluride Ski Resort and Cornet Creek Falls. Hikers can also enjoy Telluride's scenic beauty by hiking to the top of the Jud Wiebe Trail. This three mile loop offers panoramic views of the Town of Telluride while climbing roughly 1,100 feet in elevation through a grove of Aspen trees. If that's not enough to get your blood flowing, The Bear Creek Trail is a five mile roundtrip hike easily accessible from town. Even strolling along the San Miguel River trail that runs through the middle of town is a great way to breathe in the fresh mountain air while taking in spectacular views.
After a nice hike, visitors can enjoy an award winning slice of pizza or beer at Brown Dog, Telluride's family friendly sports bar on Main Street. Brown Dog's pizza was judged as the World's Best Pizza in the American pan division with a 1st place finish at the International Pizza Expo 2013. Chase down a slice of pizza with a tall glass of beer from the Telluride Brewing Company. The Brown Dog serves a variety of Telluride Brewing Company beer on tap including their Face Down Brown which won a Gold Medal at the esteemed World Beer Cup in 2013. For breakfast, Telluride's iconic bakery Baked in Telluride is open during the "offseason". It's a great place to grab a cup of coffee, breakfast burrito or donut while soaking in the views of Ajax Mountain from their front porch.
Unwind in one of Telluride Alpine Lodging's affordable hotel rooms thanks to an online promotion running exclusively at telluridehotels.com. They are offering a buy one get one free online special allowing guest to use promo code "THBOGO" to receive every other night's lodging for free. The deal is currently running for stays through the entire summer and includes pet friendly properties with hot tubs and riverfront views. View more details at telluridehotels.com and take advantage of the unbeatable lodging promo while it lasts.
Never been to Telluride? The town was founded in 1858 after gold and silver were discovered, Butch Cassidy robbed his first bank here, Nikola Tesla selected the site to build the world's first power plant here, hippies re-settled these lands in the 60's, skiing arrived in the 70's, real estate agents invaded in the 80's, Tom Cruise, Oprah Winfrey and Oliver Stone vacation here, and Tim McGraw even wrote a song about it. Check out telluridehotels.com and plan your trip to paradise today.