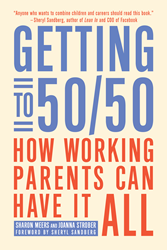 "In light of the ongoing debate over how and if working mothers can have it all, the authors say women can have successful careers and be good moms, but only if their spouses are equal partners in the work at home."—Washington Post
(PRWEB) April 16, 2014
The Independent featured Sharon Meers, co-author of Getting to 50/50, in a special article about how to create an equal marriage. Meers explains that the foundation of a healthy work/life balance is just that - balance; "no one should be permanently knocked out of the world of being either a parent or worker outside the home." From childcare to household tasks to bringing home the bacon, Meers insists that parenting and work can and should be divided equally, at least on the whole.
Red Magazine also interviewed Meers on the "balancing act of work and home life." She argues that one of the most harmful setbacks to working motherhood is the nagging sense of guilt many moms feel. She gives hands-on advice for "giving up guilt" in this conversation with Red editor in chief Sarah Bailey and Mumsnet's Justine Roberts.
Sharon Meers will present on Getting to 50/50 at the Commonwealth Club in San Francisco on May 27, 2014 at 6pm
Getting to 50/50: How Working Parents Can Have It All (also in audio)
There's no denying that women today enjoy equality unknown to prior generations. Now, it's time to close the gap for good.
In Getting to 50/50, Meers and Strober make the heaviest-hitting case to date for how working families really can have it all.
By sharing their personal experiences as mothers, wives and successful businesswomen – and unparalleled analysis of social science research – the authors show how, if we are willing to change the way we perceive our choices in career, marriage and childrearing, we can have much, much more of what we want. Getting to 50/50 offers a practical roadmap to help women - and men - stay engaged with their kids without sacrificing their careers.