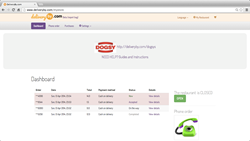 An error in these steps or at any order, produces a cumulative delay of the circuit in this and all subsequent orders. Says Sergio Feler
(PRWEB) April 16, 2014
For the vast majority of restaurants, it is tempting to offer home delivery services. After all, they don't have to pay customers rental or waiters service. Many of them only have a kitchen, and a phone line. They keep their overhead costs low, and then add delivery boys if the phone starts ringing more often.
Unfortunately, it's not that simple. The home delivery process includes complexity and synchronicity.The telephone operator must be highly trained to take customer data and make the corresponding sale. He should coordinate the order with the kitchen, delivery boys and control them: everything must be right. The process is very fast, and is enhanced when more telephone lines are added.
When the customer place an order, it passes through the following states: 1) The order is new and accepted, 2) The order goes to the kitchen (in process) 3) The request is sent (on the way), 4) order is delivered, and finally 5) The order is completed. This happens when the delivery boy gives the restaurant the customer money.
This synchronous process is a circuit that must be coordinated carefully, since all previous states are operating simultaneously handled by several orders at the same time. That is, for example, that while an operator is getting a new order, the kitchen is entering 3, cooking 4 and dispatching 2; meanwhile the delivery boy gets 6 orders to distribute, and must find the right directions.
This is the key of the problem: an error in these steps or at any order, produces a cumulative delay of the circuit in this and all subsequent orders. For example: when the phone operator misspelled the customers address, the delivery boy may delay his return causing that he can't accept orders to deliver, and even delaying the delivery of orders he carried with him, which inevitably are cooling and losing freshness.
Another example: the kitchen burned a pizza and must do it again, in consequence the following order is delayed... that time cannot be recovered. Pizzas must be delivered within 35 minutes, time can not be stopped, any mistakes in the circuit works against that goal: Either an error when placing the order, cooking or delivering it... This affects all orders that are being processed simultaneously.
Those who own a restaurant knows that this is true. It is very difficult... But, how to solve it?
Consulting Muncom.com CEO, here are four suggestions that might amazingly reduce the chances to keep making mistakes.Of course, it's impossible to eradicate errors 100%. The good news is that they can be significantly reduced to make a huge advantage over the competition.
Sergio Feler, Muncom.com CEO, explains:
"First: Understand the customers importance and compensate them when you make mistakes. Don't be cheap because it will end being extremely expensive. Never lose a client, even if you have to give him free orders for a week. A customer is the present value of the future cash flow of their purchases. So, if he calls once a week and one of your employees makes a mistake, don't be thinking about losing the money of one insignificant bill, be apologetic all the way and give him the order for free."
"Second: Stop using handwriting, use as much technology as you can afford. If every time a client call you're going to write his address, in addition to losing valuable time, you can go wrong and send the delivery boy to the wrong place, leaving an unsatisfied customer whom tomorrow will take his business elsewhere."
"Third: Convince your clients to place their orders online. Ordering online have the advantage that saves you valuable time because you do not have to make the sale or take data. The order comes with detailed delivery information so you save an important part of the process and reduce errors."
"Fourth: Be honest with your clients, warn them if you have problems, especially before confirming the sale. Be sincere when it comes to how long it will take you to deliver the order. This is very important because if you alert, you don't betray. If you have a massive amount of orders coming in and your process is delayed, alerting your clients will produce two things: 1) If the customer does not want to wait, you relieve queue orders for other clients, without losing the opportunity to continue doing business with him in the future; and 2) If the customer chooses to wait, the sense of time is reduced because he knows that the order will arrived within a certain time and may take the opportunity to face other activities in the meantime, also, by knowing the delay you didn't prejudice him with a bad service experience. In fact, if you are delayed it is because of your success."
Considering what was said, the first and fourth recommendations are left to the business owner. But on the second and third, there are alternative softwares that can help a lot. Buy software, custom made them, or use free delivery software online such as http://www.deliveryby.com, which you can use for free if you make less than 20 orders per day, no need to download any software and has a interaction system that automates the entire process, both for receiving telephone and online orders. The business owner can configure the restaurant online and manage detailed processes, all from an administration panel. The system will warn if there is a delayed process, and interact with customers in real time warning them which is the status of their order; whether if it has been accepted, if it's in the kitchen, on the way, or delivered.