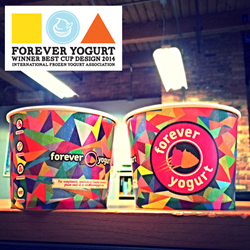 A successful froyo business is one that's based on the community, and this event helped frozen yogurt business build community around their stores.
City of Industry, CA (PRWEB) April 16, 2014
The first collaboration between International Frozen Yogurt Association (IFYA) and CarryOutSupplies.com concluded on March 31st. The Grand Prize winner of 10,000 custom yogurt cups is Forever Yogurt, based in Chicago, IL and the winning entry is their Color Prism Cup.
Ahmad Yilmaz, Co-Founder and Creative Director at Forever Yogurt, stated "We were pretty ecstatic once we heard about the International Frozen Yogurt Association's cup design contest because we thought it was such a unique idea for a contest. The frozen yogurt industry is competitive in nature and we thought that by participating we could potentially win and earn some bragging rights. Once our fans learned about the competition on Facebook, they were very generous in helping us collect votes and spread the word. We are thankful for our fans for their support and, especially, the IFYA for holding such a cool competition."
The contest began on February 1st and ended on March 31st on IFYA's official Facebook page. It received 19 entries from frozen yogurt stores across the country and tallied thousands of views, votes and shares. Entries moved on to the judge round of the contest if they received 10 or more votes from the public. In the judge round entries were scored based on creativity, uniqueness and overall attractiveness. Forever Yogurt's Color Prism Cup scored highest point total. Sweetly Twisted's (of Greenville, SC) cup entry placed a close second by a few points.
Custom printed paper cups have become ubiquitous to frozen yogurt stores across the country. The contest organizers aimed to showcase the best of cup designs and inspire others to let their creativity flow and create memorable designs as well.
"We are thrilled to be able to recognize frozen yogurt shops for their cup design excellence. The contest also was able to generate appreciation and excitement of froyo cup designs among the consumers," commented Susan Linton, President of the International Frozen Yogurt Association. "Thank you to everyone who entered the contest and voted for the cup designs."
"We are very excited about the results of this contest," said Andy Lin, Web and Marketing Manager at CarryOutSupplies.com. "It was a tough decision to select one Grand Prize winner out of many great entries, but in the end the scores from the judges agreed on the winner."
Mr. Lin also commented the anticipated effect of hosting the contest on Facebook. "Many participants were able to drum up support from their communities and I believe the contest served as a platform for them to strengthen those ties in the community. A successful froyo business is one that's based on the community, and this event helped frozen yogurt business build community around their stores."
This is especially true for Dipali Britton, the proprietor of Sweetly Twisted Froyo Truck, who posted on Facebook "When I entered this contest for our custom cup design last Monday, I wasn't sure if I could catch up to a guy who has been running for 7 weeks and leading by 400 votes!!! I may not speak to each of you everyday or month or even a year, but THANK YOU for showing me your support and love via Facebook and helping me to get almost 900 votes!!! (15 away hint hint) Doesn't seem like a big deal, but this contest has helped our Sweetly-Twisted Froyo Truck Facebook page have more likes and we have signed up 8 events in the last week!!! So THANK YOU FOR AWARENESS AND TO DOMINATE THIS CONTEST! And thank YOU Chris Parker for an amazing design!!!! — feelingloved." Britton's entry received the highest number of votes from the community and placed second in score total in the judge round.
To show appreciation for all particpants, CarryOutSupplies.com is adding prizes for all entrants. All participants will receive coupon redeemable for anything available from Carry Out Supplies. CarryOutSupplies.com is also planning more events to involve frozen yogurt businesses and their communities.
To view entries in the contest please go to https://www.facebook.com/froyoassociation.
About CarryOutSupplies.com
CarryOutSupplies.com, the leader in paper and plastic disposable takeout supplies, is dedicated to offering quality products, low prices and reliable customer service. The company started serving the local marketplace in 2004 and expanded its operations in 2007 to serve nationwide demands. Throughout its history, the company has experienced growth every year by maintaining and increasing a loyal clientele, and offering competitive prices and convenience with its free custom print service for custom paper cups and custom plastic cups. Learn more at CarryOutSupplies.com.
About the International Frozen Yogurt Association
The International Frozen Yogurt Association (IFYA) serves as an unbiased source of support and information for current and prospective frozen yogurt store operators. The Association works to set and promote standards to elevate the quality of frozen yogurt stores and recognizes those that meet the Swirl of Honor™ standards of the industry. IFYA represents frozen yogurt shops, suppliers and consumers across the world. Their audience is diverse in background yet united by a common love of frozen yogurt. Visit the IFYA website for additional information.