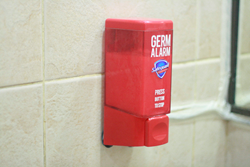 (PRWEB) April 17, 2014
The reason this is alarming is because high-touch areas of public restrooms can contain more than 1,000 colony-forming units per milliliter of infection-causing bacteria.
The Centers for Disease Control and Prevention published a reminder that it takes at least 20 seconds of washing with soap and water to kill most of those germs.
Armed with this information and various studies, Safeguard introduced the Safeguard Germ Alarm, a loud, attention-grabbing alarm and soap dispenser in one. It was an invention made specially by Safeguard to tackle the issue of germs in public restrooms.
The alarm is triggered once a person leaves a toilet cubicle, and is disarmed only when the soap dispenser is pressed. Alongside every installed dispenser is a guide on proper handwashing.
First introduced during Global Handwashing Day in October 2013, the Safeguard Germ Alarm has also been installed in public restrooms around the country, as seen recently in select McDonalds branches. Schools are also beginning to introduce the alarm to their students, with Little President's Learning Palace in the Philippines being the first of many more to come.
Through the Safeguard Germ Alarm, Safeguard, known to provide 99% germ protection, hopes to enjoin more establishments and schools in its fight against harmful diseases—and in effect, reduce the number of illnesses that could be prevented simply by regular handwashing.
Check out the video showing the Safeguard Germ Alarm in action https://www.youtube.com/watch?v=tU8rKE4yQX8
About Safeguard
SAFEGUARD IS AN ANTIBACTERIAL SOAP. It is P&G's largest Global Personal Care brand. First launched as a bar soap in the USA in 1963, it is currently sold in more than 15 countries across Asia, Europe, Africa and Latin America with leadership market share in China and the Philippines. P&G, through its brand Safeguard, co-founded the Global Handwashing Day (GHD) in collaboration with the Global Public Private Partnership for Handwashing.
Safeguard is proven to kill 99.9% of germs in the body that cause illnesses such as diarrhea, cough, colds, and pneumonia.
Safeguard is committed to protecting every family from germs that cause illness. Through innovative education programs, partnerships with respected local health organizations, and support for Global Handwashing Day, we're fulfilling our mission to promote life-saving hygiene habits around the world.
About Procter & Gamble
Driven by passionate people and a common purpose, P&G brings beloved brands to consumers around the world—including our 50 Leadership Brands that are among the world's most well-known household names. Its purpose is to provide branded products and services of superior quality and value that improve the lives of the world's consumers, now and for generations to come. As a result, consumers will reward us with leadership sales, profit and value creation, allowing our people, our shareholders and the communities in which we live and work to prosper.
References:

-ENDS-