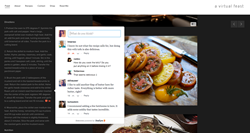 By allowing people to engage with the precise moments they truly connect with, we're creating completely new formats for conversation.
San Francisco, CA (PRWEB) April 16, 2014
Livefyre, provider of the leading real-time conversation and social curation platform, today announced it has launched Sidenotes, the world's first widely available web annotation technology.
Livefyre Sidenotes inspires focused conversations by enabling users to engage directly with specific pieces of content as they read. With Sidenotes, readers can select any text or image on a page to start a conversation about that particular object. Users can also share Sidenotes to Twitter and Facebook, and tag friends to draw more people into the conversation from their social networks. With Sidenotes, every piece of content on the page becomes interactive.
Sidenotes appear as each user hovers his or her cursor over the content, making it effortless to discover and join new conversations as they read. Users can also upvote and downvote each other's Sidenotes, ensuring the best user content always appears first. The entire Sidenotes experience is available on mobile interfaces as well, where it takes on a specific form perfectly built for mobile web interaction.
"When you're reading anything—a book, an article, song lyrics—it's rarely the entire thing that grabs your attention. By allowing people to engage with the precise moments they truly connect with, we're creating completely new formats for conversation," said Livefyre founder and CEO Jordan Kretchmer. "We believe people will feel so empowered by what they can do with Sidenotes that they'll come to expect this kind of interaction everywhere."
Sidenotes is available to the over 600 premium publishers and brands that are using StreamHub:Core, the 100,000 blogs that use Community Comments via a WordPress plug-in and over a million Storify users, collectively reaching almost 2 billion page-views each month. For the first time in history, consumers will be able to leverage this form of collaboration on a massive scale, thanks to the depth and reach of Livefyre's existing and future network.
Livefyre customers who will be the first to use Sidenotes include Interscope Geffen A&M, Salon, FOX Business and FOX Sports.
"Since we have a vocal and opinionated community at Salon, we're looking forward to offering them other ways to engage with each other and with our writers," said Dave Daley, Editor in Chief for Salon. "With our integration of Sidenotes, we're eager to help pioneer exciting, new parallel discussions amongst our community."
"With Sidenotes, we're able to offer fans a more meaningful way to discuss their favorite lyrics," said Lee Hammond, VP of digital for Interscope Geffen A&M, who is using Sidenotes on multiple artist websites, including ImagineDragonsmusic.com. "This is yet another tool that helps us reimagine the artist website experience, letting fans discuss their favorite lyrics or phrases in the same place that they can listen to the latest tracks, watch the latest videos and buy merchandise."
Sidenotes is mobile-ready, can be deployed in any language, and is customizable for various page layouts and international reading conventions.
About Livefyre
Livefyre helps companies engage consumers through a combination of real-time conversation, social curation and social advertising. With Livefyre's social CMS, brands can integrate real-time social content into their websites, mobile apps, and advertisements and television broadcasts to increase viewer engagement, boost website traffic and drive revenue. As the fourth largest network online, Livefyre is powering real-time social experiences for over 600 leading brands including AOL, Bravo, Burger King, CBS, Conde Nast, Cox Media Group, Dow Jones/WSJ, FOX Sports, Mashable, NASCAR, Showtime, Sony PlayStation, Sports Illustrated, Unilever and Universal Music Group. Livefyre acquired social storytelling platform Storify in September 2013 and social application provider Realtidbits in November 2013.
Founded in 2009 with offices in San Francisco, New York, London and Sydney, Livefyre was named one of the best places to work in the Bay Area by the San Francisco Business Times and 2013 Corporate IT Software Company of the year by the World Technology Network. For more information, visit http://www.livefyre.com or follow us Twitter and Instagram at @livefyre or @storify.