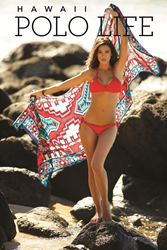 The splash page and online magazine destination for discerning travelers, lifestyle aficionados, fashionistas, watch and gear hounds, philanthropists and fans of the "Sport of Kings."
HONOLULU, HAWAII—
(PRWEB) April 18, 2014 -- Dawson Media Hawaii and Hawaii Polo Life annual magazine announce the launch of HawaiiPoloLife.com: the venerable splash page and online magazine destination for discerning travelers, lifestyle aficionados, fashionistas, watch and gear hounds, philanthropists and fans of the "Sport of Kings."
Following a breakthrough year in 2013, when the nationally awarded editorial team released the first annual magazine, Hawaii Polo Life has expanded on all themes and bolstered the fashion section, boosting the page count an additional 30 pages from year to year. Fresh culinary, gear, fashion and other such stories produced during the edit ramp up for the Spring issue were curated for the new website, which aims to act as a direct conduit to the annual print magazine.
"Our dedicated team pours their hearts and souls into the annual print edition of Hawaii Polo Life magazine," says publisher and editorial director Brian Berusch. "At some point between December and January, we have to draw the line with what makes it into the coveted pages. While our magazine resides in the most luxurious homes, hotel & resort suites, spas and shops not only throughout Hawaii, but across the globe, the website can be everywhere and anywhere. Our team of global correspondents are updating weekly."
"HawaiiPoloLife.com is the ultimate venue for our savvy, digital partners and affiliate members to showcase their brands," adds Dawson Media Hawaii founder and president Christopher Dawson. "Our launch effort supporters—and a bevy of new partners—told us that the digital realm is where they look to expand. We are happy to provide a fresh, sexy and clean venue created with the utmost in modern attributes for them to shine. "
"The depth of the polo lifestyle speaks to such a broad albeit tasteful and celebratory audience," adds Mariana Castro, Dawson Media executive director. "When you pair it with the Aloha Lifestyle that is completely special to Hawaii, you have an allure that draws people from all over the world. We aim to capture those people through both our print magazine and the newly launched website, as well as our comprehensive video production and special events."
Keep your eyes on the website for specifics regarding the annual magazine launch event & "Summer White Soiree" plus other Hawaii Polo Life sponsored events around Hawaii during the 2014 polo season.
Dawson Media Hawaii also launched the non-profit 501(c) Hawaiian Islands Polo Association (HIPA) in order to fund, support and grow the sport of polo throughout the Hawaiian Islands. Various sales (magazines, t-shirts, hats, jerseys, silent auction items) at the launch event and throughout the year will benefit HIPA and feed directly to the evolution and exposure of polo across The State of Hawaii.
FOR SUBSCRIPTIONS to the print annual—which will be available to the public starting mid-April, click here and order. http://www.HawaiiPoloLife.com/subscribe