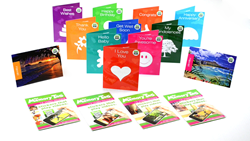 The new tech company has hit the ground running with a line of greeting cards that allow you to easily attach a custom video for the recipient.
Woodbridge, CA (PRWEB) April 16, 2014
MemoryTag is a new way to put videos on stuff.
Adding a video to a MemoryTag Sticker is remarkably easy: Simply scan the sticker with your phone, and within moments, MemoryTag's free user-friendly App will have your video uploaded and ready to share.
Now place that sticker anywhere. Whether it's on a business card, a picture frame, or a break room fridge--anyone who scans that sticker with their phone or tablet will be able to instantly watch the video you made. MemoryTag has streamlined the entire process from beginning to end, giving everyone of all ages and backgrounds the opportunity to easily put videos on stuff.
In addition to Video Stickers, MemoryTag also produces Video Cards and Video Postcards.The folks at MemoryTag are quick to point out that this changes how people look for greeting cards. Until now, the average person wasted time searching for a card that had the right text or artwork. The alternative was to purchase expensive specialty cards that lit up or played music.
No more.
Every MemoryTag Video Card is the perfect card when it has a custom video. Although priced the same as a traditional card, this new evolution of card has the ability to perfectly communicate your thoughts and feelings in a way that is fun, creative, and unique. MemoryTag has moved the spotlight from the actual card itself to what really matters: You.
As a result, MemoryTag believes that consumers now have the power to solve the problem of "greeting card abandonment". No longer will greeting cards be purchased, only to be tossed away and forgotten. Video Cards may be watched over and over again, something to preserve and enjoy for years to come.
To get the word out, MemoryTag has charged head-first into the social media fray. MemoryTag Contests have become quite popular. For instance, Instagram followers have become quite enthusiastic about the daily chance to win free lunch, celebrity merchandise, and product samples.
For more info, visit them at theMemoryTag.com. For other updates and contest offerings, they may also be found on Facebook, Instagram, Google+, YouTube, Twitter, Pinterest, and Tumblr.
Add more awesome to the world--use MemoryTag products. Anything else is just lame.