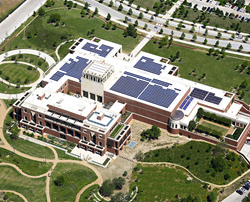 "Sika is committed to providing roofing systems that provide long-term energy and environmental benefits," said Brian J. Whelan, Senior Vice President of Sika.
Canton, MA (PRWEB) April 16, 2014
Sika Corporation roofing membranes were installed on five out of eight RoofPoint™ Excellence in Design Award winning buildings for 2013. RoofPoint is the voluntary, consensus-based green rating system developed industry-wide by The Center for Environmental Innovation in Roofing to recognize outstanding sustainable design.
"We are pleased that Sika's roofing products were specified and installed on a majority of the award winning buildings," said Brian J. Whelan, Senior Vice President of Sika. "Sika Corporation is committed to providing building owners, roofing contractors, and designers with roofing systems that provide long-term energy and environmental benefits to help them achieve their sustainability goals."
This year's competition featured eight categories with the winning projects demonstrating significant leadership in advancing the awareness and application of sustainable roofing.
Winning Entries Featuring Sika Roofing Products
Excellence in Energy Management
Project: George W. Bush Presidential Center – Dallas, TX
Systems: EnergySmart Roof®, Vegetated Green Roof and Plaza Decks
This roofing project features a highly reflective and durable roofing surface, high thermal system integrity, and rooftop photovoltaic arrays and solar hot water panels for energy production. The roof has a number of levels and also features vegetated green roofs and plazas.
Excellence in Water Management
Project: GSM Roofing Headquarters Garden Roof – Ephrata, PA
System: Vegetated Green Roof
Hurricane Sandy resulted in devastating flooding in Central Pennsylvania in 2012. As part of an overall renovation, GSM Roofing installed a new vegetated roofing system on their facility to reduce storm water runoff into a nearby creek and help prevent future area flooding.
Excellence In Innovation
Project: Immaculate Conception Church – Goose Creek, SC
System: Décor Roof System
A host of site conditions posed challenges for this reroofing project. A number of important sustainable roofing technologies were combined to overcome these issues and resulted in a durable and ascetically attractive roofing system.
Private Sector Leadership
Project: SuperTarget Retail Store – Olathe, KS
System: RhinoBond Roof System using Sikaplan
The existing roof membrane on this 175,000 sq. ft. facility was recycled and a reflective, energy efficient and highly durable roofing system installed which can also be recycled at the end of its service life. Excess membrane trimmings from the installation of the new roof were recycled, as well.
Public Sector Leadership
Project: San Diego County Operations Center – San Diego, CA
System: EnergySmart Roof® and Vegetated Green Roof
Roof areas included a second floor terrace area with waterproofing membrane and full pedestal paver system, two sloped vegetated green roof areas, and roofing systems on a rooftop mechanical enclosure and elevator tower and lobby. Photovoltaic solar panel arrays on trellises produced both power and shading.
Sika Corporate Profile
Sika is a specialty chemicals company with a leading position in the development and production of systems and products for bonding, sealing, damping, reinforcing and protecting in the building sector and the motor vehicle industry. Sika has subsidiaries in 84 countries around the world and manufactures in over 160 factories. Its more than 16,000 employees generate annual sales of CHF 5.14 billion. For more information about Sika Corporation in the U.S. including Canton, MA, visit http://usa.sarnafil.sika.com/.