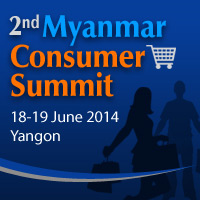 This year, the summit will spotlight on 'Empowering Consumers with Choice in Fast Changing Myanmar'.
Yangon, Myanmar (PRWEB) April 23, 2014
The well-received 1st summit last year has paved the way for the second 2014 edition. While the 2013 event explored sustainable growth opportunities, this year it will spotlight on 'Empowering Consumers with Choice in Fast Changing Myanmar'!
This May summit will be inaugurated by His Excellency Aung Kyi, Union Minister of Information with an opening keynote address on 'Socially Responsible Media Code for Myanmar'.
Among the prominent companies participating is Procter & Gamble. Mr. Bob Travers, Associate Director (ASEAN Supply Network Organization) at P&G will share the company's perspective on 'Managing Supply Chain Network Risk and Volatility to Win'. Mr. Bob Travers will also join Mr. Myint Zaw, President, Professional Marketer Association of Myanmar and Mr. Lester Tan, Managing Director, APB Alliance Brewery Co. Ltd. (Part of the Heineken Company) in a 'Panel Discussion on Accessing Myanmar's Market'.
A second Panel Discussion on 'Opportunities & Challenges for Myanmar's Franchise & Retail Sector' will feature Mr. Han Kyi, Director, Creation Myanmar Co., Ltd. and Daw. Wai Thit Lwin, Managing Director, ABC Convenience Stores. Together with other invited panelists, they will explore `Consumer behavior and retail trends, international fashion labels, local franchisees & retailers, in-house brands, modern retail outlets & convenience store'.
The summit also spotlights on the telecom developments and how it will impact the retail and consumer landscape. The prospects of mobile money will be discussed by one of the pioneer service providers of mPOS in Myanmar – Mr. Aung Aung, Board Member of Myanmar Citizens Bank. Further insights on mobile devices are provided via session on 'Commercial Success of Launching Smart Phones for Myanmar's Consumer Market' by Mr. Roson Luo, Director (Consumer Business), Huawei Tech. Investment Co., Ltd., plus discussion on the implications of the telecommunication developments on e-commerce, internet advertisements and social media.
Some of the other key sessions include:

The Conservative, Contemporary & Cosmopolitan: Dissecting Myanmar's Consumer Market? – Sarinporn Jivanun, Managing Director, Environsell Thailand
Consumerism Trends in the Emerging CLMV Countries – Mr. Jason Copland, General Manager, TNS Myanmar
Balancing Creativity and Functionality: Affective Advertising & Communication Strategies which will Succeed in Myanmar – Ms. Lynn Lynn Tin Htun, Managing Director, Mango Marketing Services Co., Ltd.
Import Licensing and Import Tax Issues for Foods and Beverages – Mr. Edwin Vanderbruggen, Partner, VDB Loi Myanmar
Fine Food Products Outlook for Myanmar: Is it a Growing Niche? by Mr. Chad Van den Hoek, Director of Marketing, Quarto Products Myanmar
The 1.5 day summit is expected to be attended by senior representatives from FMCG Companies, Advertising & Marketing Firms, Retail & Consumer Industry, Market & Retail Research /Consulting Services, Logistics & Warehousing, Retail & Shopping Centers Developer, Fashion & Apparel Industry, Mobile & Electronics Companies, Domestic Appliance Manufacturers, Supermarket / Food & Liquor Companies and organizations which support and/or supply products & services to the consumer industries.
Visit the official website for more details.
For enquiries, contact Ms. Hafizah at +65 6346 9218.