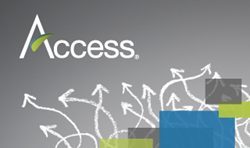 Sulphur Springs, Texas (PRWEB) April 16, 2014
Harnett Health has partnered with Access, a leading provider of enterprise forms management software, to provide a better patient experience at registration, to help save the environment, and to save time and money.
"Access provides us with custom created e-forms that can be electronically populated with information from the patient's electronic health record, allowing for faster registration and less paperwork for the patient," says Tim Krieger, Harnett Health's Chief information Officer. "The Access system also allows us to securely and electronically capture a patient's signature, eliminating another step in the registration process to save time."
Another great benefit of using Access's solutions is that Harnett Health registrars get to stay with the patient during the registration process and don't have to leave the patient to find and to make copies of forms, which increases patient satisfaction. The Access solution also helps the healthcare system save money and reduce its environmental impact by reducing the amount of paper used each day by hundreds of sheets and by reducing the amount of ink used.
To further increase productivity and money savings, Harnett Health also uses Access's clinical content bridge. This feature automatically captures output from the organization's cardiac rehab telemetry system, converts it into a standardized format, and sends it into the correct patient's electronic health record. Access's bridge between the two systems eliminates a time-consuming, paper-based process and effectively integrates the use of both systems.
One more advantage of having the Access system is the ease of checking patients' charts to ensure all paperwork is complete. Krieger elaborates, "The Access system helps Harnett Health meet the need to remain compliant with the Centers for Medicare and Medicaid Services and to help prevent denials and lost revenue by ensuring all patient paperwork is complete."
"We are very pleased to partner with Access," continued Krieger. "It's a win-win for both organizations, and, most importantly, it's a win for Harnett Health patients."
About Harnett Health
Harnett Health is a private, not-for-profit healthcare system based in Dunn, N.C. The system is accredited by The Joint Commission and encompasses a network of facilities throughout Harnett and Johnston counties. It has more than 265 credentialed providers. The system includes Betsy Johnson Hospital in Dunn, N.C. with 101 beds and Central Harnett Hospital in Lillington, N.C. with 50 private inpatient rooms. Services offered through Harnett Health include outpatient rehab/wellness centers in Benson, N.C., Dunn, N.C., and Lillington, N.C., and cardiac rehabilitation services, a breast care center, outpatient cardiac testing and a wound care center in Dunn, N.C. The healthcare system has six physician practices: Angier Medical Services, Coats Medical Services, Dunn Medical Services, Lillington Medical Services, Harnett OB/GYN, and Premiere Pediatrics. It also has a Foundation focused on fundraising, providing a personal touch for patients with extraordinary needs, and working to expand access to care for our community. For more information, visit http://www.harnetthealth.org.
About Access
Hundreds of hospitals worldwide use paperless Access solutions to integrate e-forms, electronic patient signatures and clinical data into EHRs. Access helps improve care, eliminate financial and environmental costs and enhance patient safety and downtime planning initiatives. Learn more at http://www.accessefm.com and discover how you can help Access's partner The Last Well bring fresh water & the Gospel to Liberia here.