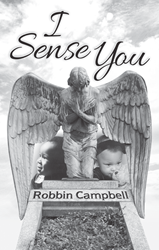 This fascinating look at a sensitive's life offers insights into her extraordinary gift.
WINSTON-SALEM, N.C. –
(PRWEB) April 22, 2014 -- Imagine being able to feel what others feel or connect to the spiritual realm. Describing herself as someone with the ability of "clairsentience," which means she can sense things about people, Robbin Campbell attributes her gift to her grandmother, who had the sense of sight. In this new book, she shares stories about her gift and the people she's helped. This fascinating look at a sensitive's life offers insights into her extraordinary gift.
"I Sense You" relays stories from Robbin's earliest days to recent times, including a misty yellow veil that her mother claimed appeared over her crib a week after her grandmother's death. Robbin's first experience with the spirit world she can recall happened with her grandfather when she was 6 and he appeared to her in a dream. All grown and with a family of her own, Robbin moves into a house with a disturbed spirit but doesn't stay for long. She also describes a spirit she saw at the department store where she works, helping her mother cross over, the mischievous ghost of her husband's sister and how a friend who died helped her former colleagues celebrate a store milestone.
Author Robbin Campbell has done readings for hundreds of clients in the last 15 years, as well as performing healing through Reiki techniques. Campbell, who has worked in retail management for 30 years, has been married to her husband, Surachart, for 38 years. They have two children, four grandchildren and one great-grandchild. Campbell has embraced Buddhism.
For additional information, please visit http://robbin-campbell.com.
I Sense You
Robbin Campbell
Dog Ear Publishing
ISBN: 978-1-4575-2104-1 | 108 pages | $16.95 US
Available at Ingram, Amazon.com, Barnes & Noble and fine bookstores everywhere.
About Dog Ear Publishing, LLC
Dog Ear Publishing offers completely customized self-publishing services for independent authors. We provide cost-effective, fast, and highly profitable services to publish and distribute independently published books. Our book publishing and distribution services reach worldwide. Dog Ear authors retain all rights and complete creative control throughout the entire self-publishing process. Self-publishing services are available globally at http://www.dogearpublishing.net and from our offices in Indianapolis.
Dog Ear Publishing – self-publishing that actually makes sense.