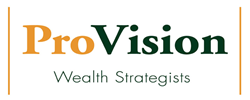 Thanks to loyal clients and the growth of our business, we literally outgrew our previous office space.
Tempe, AZ. (PRWEB) April 16, 2014
Most CPA firms wouldn't even think about planning and hosting a Grand Opening event during the month of April. The fact that ProVision is doing just that underscores how very different it is from other CPA firms. Tom Wheelwright, ProVision founder and CEO and the entire ProVision team of professionals will welcome clients and friends to celebrate not only the firm's new 12,000-square-foot offices, but its unique and strategic approach to tax strategy, wealth strategy, and tax preparation.
The Grand Opening event is slated for Wednesday, April 23 at 5 pm at the ProVision offices in the Fountainhead Center at 1501 W. Fountainhead Parkway in Tempe, Arizona. A ribbon-cutting ceremony is planned for 5:15 pm.
According to Wheelwright, a CPA and the creative force behind the firm, "ProVision is a new kind of CPA firm for entrepreneurs, professionals, and investors who thrive on success. And when I founded ProVision, my goal was to help clients quickly reach their goals for building wealth and personal freedom." He added: "In that regard, little has changed over the years and that goal has become the mission of ProVision."
The firm's new offices, in Suite 650, feature high-tech business tools and "an amazing training room," stated Wheelwright. "Thanks to loyal clients and the growth of our business, we literally outgrew our previous office space," he said.
Founded in 1995, ProVision has experienced steady growth for nearly two decades and employs 40 tax professionals and support staff. The firm's client base spans the globe and several clients will travel to the Valley of the Sun to join the ProVision team as they mark this significant milestone. The guest list includes Tempe Mayor Mark Mitchell and local icons Robert and Kim Kiyosaki, ProVision clients and long-time friends of Wheelwright, who is Kiyosaki's Rich Dad Advisor on taxes.
About ProVision and its Founder Tom Wheelwright
Tom Wheelwright, CPA, is the creative force behind ProVision, a strategic CPA firm, and one of Robert Kiyosaki's team of Rich Dad Advisors. As founder and CEO, Tom has been responsible for innovating new tax, business and wealth consulting and strategy services for ProVision's premium clientele for the past 20 years. For more than 30 years, Tom has devised innovative tax, business and wealth strategies for
sophisticated investors and business owners in the manufacturing, real estate and high tech fields. His passion is teaching these innovative strategies to the thousands who come to hear him speak.
Tom is a leading expert and published author on partnerships and corporation tax strategies, a well-known platform speaker and a wealth education innovator. Donald Trump selected Tom to contribute to his Wealth Builders Program, calling Tom "the best of the best." Robert Kiyosaki, bestselling author of Rich Dad Poor Dad, calls Tom "a team player that anyone who wants to be rich needs to add to his team" and counts Tom among his team of hand-picked, personal Advisors.
With a background that includes a wide variety of professional experience—ranging from Big 4 accounting, where he managed and led the professional training for thousands of CPAs at Ernst & Young's National Tax Department in Washington, D.C., to in-house tax advisor for Pinnacle West Capital Corporation, at the time a Fortune 1000 company—Tom's experience is extensive and varied. He also served as an adjunct professor in the Masters of Tax program at Arizona State University for 14 years.
For more information, log onto: http://www.provisionwealth.com