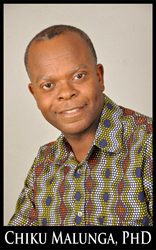 African proverbs are used to illustrate ideas, reinforce arguments and deliver messages of inspiration, consolation, celebration and advice.
Los Angeles, CA (PRWEB) April 16, 2014
Imagine bringing African Indigenous wisdom to society and today's business culture. Malawi-based author, Chiku Malunga, PhD, does just that and quite successfully as his globally embraced fresh perspective continues to be in wide demand. With a focus on organizational development, the world leading Indigenous Wisdom-based expert is in Accra, Ghana this week to conduct a Mentoring Seminar for the West Africa Civil Society Institute (WACSI). At the request of the organization's Executive Director, Nana Asanteewa Fadzinu, this high-level seminar further includes guest participants from the world distinguished organization, Africa Lead.
The aim of the Seminar is to discuss best mentoring practices as Dr. Malunga also introduces an African Indigenous wisdom dimension to WACSI. The criteria for having him appear before this prestigious group is to establish new ways they may improve their practice with partners in West Africa.
This week's mentoring follows a similar seminar Dr. Malunga had previously conducted for Africa Lead. His speaking appearance had evolved from their keen interest to learn from his expertise how to apply African Indigenous Wisdom to their leadership development work.
As a specialist in civil society, leadership development, and strategy from an African perspective, Dr. Malunga has become the foremost internationally recognized expert and author on this topic. A sought-after pioneer and a thought leader, he has successfully introduced the value of Indigenous proverbial principles to the business class, as well as for achieving personal growth and development.
Through his innovative application of African proverbs into today's culture, Dr. Malunga presents the unmistakable empowerment received, between organizations and individuals alike, from this emerging wisdom. A unique facilitator of this process, he illustrates how it can enhance modern life, in new and creative ways that touches people's hearts and motivates them to personal and organizational transformation.
Dr.Malunga's distinctive proficiency and world class innovation is further supported through his books, Understanding Organizational Sustainability through African Proverbs and Power and Influence: Self-Development Lessons from African Proverbs and Folktales, among other books. The collective information he offers between the two key titles places an emphasis on the African expression, UBUNTU (the essence of being human).
"A must-read for all who are interested in their own and others development."
– Cornelius Murombedzi, development consultant, Oxford, United Kingdom
Dr. Malunga's books are among the first to consciously acknowledge, demonstrate and contribute to the rationale of applying Indigenous wisdom – African proverbs and folktales expressing an accumulated wisdom – for the improvement of inter-human relations.
"African proverbs are used to illustrate ideas, reinforce arguments and deliver messages of inspiration, consolation, celebration and advice," states Dr. Malunga.
It is easy to understand how this foremost internationally recognized expert, a revered African development pioneer and thought leader, has earned his demand. His steadfast work in bringing African Indigenous wisdom into organizational development has served as important lessons for leaders, consultants, volunteers and expatriates, the world over.
Dr. Malunga's significant work is an appeal toward a much-needed, cross-cultural dialogue among individuals, organizations and societies in today's increasingly diversified world.
See Dr. Malunga appear in the following interview broadcast:
http://www.youtube.com/watch?v=LNz-OMCfPNQ
His current travel stretches from Ghana this week, to Uganda next week. Stay tuned as Dr. Malunga readies for a next big project with Plan Uganda/Plan International in support of their Realignment program – anticipated to escalate into widespread movement, from Africa and beyond.