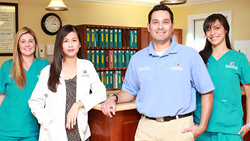 Five Stars!
Stockton, California (PRWEB) April 22, 2014
In 2009, Delta Valley Convalescent Home in Stockton, California, was acquired by new owners whose goal was to achieve a five-star rating from the Centers for Medicare & Medicaid Services (CMS). After a multimillion-dollar remodel, a radical change in organizational culture, technology acquisition to enable easy tracking of quality indicators, and a rebranding campaign, Lincoln Square Post-Acute Care was open for business.
The change has been nothing short of miraculous. Last year, Lincoln Square was ranked the No. 1 provider of post-acute services in its county, based on hospital discharge data. Its surveys had improved so much that it received a five-star rating on the CMS Nursing Home Compare website. And its 2013 annual survey reported zero deficiencies—down from 600 deficiencies only a few years before.
Provider Magazine's April 2014 article celebrates the achievements of Lincoln Square and details how the monumental changes were accomplished. Changes in management, staff accountability, and feedback methods were cited as primary reasons for the increase in quality.
These changes have been achieved through the guidance of North American Health Care, which has consulted Lincoln Square for the past five years. Last year, every single one of NAHC's 35 client facilities received the coveted five-star rating. For more information, or to schedule an interview with Lincoln Square administrator Ben Pyper, please contact his publicist, Amy Osmond Cook, at acook(at)nahci(dot)com or 949-813-0182.
At Lincoln Square Post-Acute Rehab, caring is our main concern. We believe the most effective way to provide compassionate care is to maintain high medical integrity, build a team spirit among staff, and provide friendly, beautiful surroundings for our patients and their visitors. Although most transitions can be challenging, we strive to facilitate that process with an environment where our patients and guests feel informed and comfortable.
Our team of qualified professionals helps patients recover from surgery, injury, or serious illness. They understand the importance of creating a comfortable and nurturing atmosphere, whether our patients are here for short-term treatment or long-term care. To find out more, please visit http://www.lincolnsquarerehab.com.
About North American Health Care
Our goal at North American Health Care, Inc. is to assist our client-serviced facilities in providing five-star patient services for every person served. This is a serious and monumental undertaking--one we enjoy the challenge of accomplishing. Our client-serviced facilities' ratings reflect the organization's commitment to excellence in patient care, which includes the desire to provide every aging individual serviced a dignified experience.