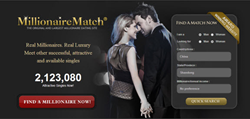 Los Angeles (PRWEB) April 17, 2014
Where's the best place to meet a millionaire? What city has the most millionaires? MillionaireMatch.com, a leading Internet dating site for over 13 years, recently reveals the top five cities to meet millionaires on 15th, April.
Millionaires are all over the country but these top five cities have a higher concentration of real millionaires with real luxury. The first spot on the map is the San Francisco Bay area. As people know, the famous "Silicon Valley" is located there. This area is home to many top technology talents. Silicon Valley continues to be a leading hub for high-tech innovation and development, accounting for one-third of all of the venture capital investment in the United States.
As a result of the high technology sector, this area has the most millionaires and the most billionaires in the United States per capita. That's not all; Over twenty thousand MillionaireMatch members come from this area.
Next in second place is Anchorage, Alaska. Yes, Anchorage, Alaska, home to polar bears, fresh water salmon and 24 hours of daylight in June. As one of America's highest earning cities, its household income is $75,035. Forbes Magazine voted it the #18 Best Places for Business and Careers. So if living in Alaska sounds exciting to singles, the good news is single people can also find a millionaire very easily.
Alaska just sounds too darn cold for some people? Then consider the rest of the top five cities to find a millionaire ready for love.
The nation's capital, Washington, D.C. and its sister city just 30 miles north, Baltimore came in third place with 13.27% members on MillionaireMatch.com. Looking for love in the warm waters of Naples, Florida has 10.34% members of this dating site. Last but not least is fine city of Boston with 9.27% members of MillionaireMatch.com.
Source: http://www.forbes.com/pictures/mli45eegfe/18-anchorage-alaska/