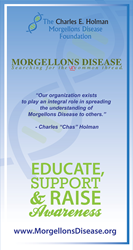 Although the exact cause of Morgellons remains unknown, the consistent presence of these unique pathogens is very significant, said Cindy Casey-Holman, RN, Dir of CEHMDF.
Austin, TX (PRWEB) April 16, 2014
The Charles E. Holman Morgellons Disease Foundation (CEHMDF), a non-profit advocacy group for those suffering the medical condition Morgellons Disease (MD), is pleased to announce the incredible success of the 7th Annual Medical Scientific Conference on Morgellons Disease which took place March 29 & 30 in Austin, TX. Attendees from the around the globe including researchers, medical professionals and patients gathered for the event titled "Searching for the Uncommon Thread" to discuss new research and understanding of the condition.
Morgellons Disease is a somewhat mysterious and misunderstood medical condition characterized by the formation of unusual filaments within the skin visible at 60 X magnification. Patients with the condition often describe symptoms including the sensation of something crawling on or within their skin. The multi-system illness includes slow-healing skin lesions often accompanied by overwhelming fatigue and an array of neurological deficits. The condition affects people of all ages, genders and ethnic groups worldwide.
The eagerly anticipated results from Phase 2 Morgellons Research and much more were revealed during the 2-day event. Researchers from two esteemed universities, Oklahoma State University-Center for Health Sciences and the University of New Haven as well as an international team of independent researchers delivered powerful presentations throughout the weekend. One after one, these highly regarded scientists and medical professionals delivered profound and compelling presentations confirming the presence of the human pathogens Borrelia, Helicobacter and Bartonella in MD patients' skin samples which were absent in controls. These findings hold a serious medical and scientific significance contributing to the strong evidence from multiple credible sources supporting Morgellons Disease has an infectious etiology.
Conference speakers included Randy S. Wymore, Ph.D., Director of Research at OSU-CHS-CIMD (Center for the Investigation of Morgellons Disease) and two assistants from his research team; Marianne Middelveen, an Independent Researcher from Calgary, Alberta, Canada; Cheryl Bandoski, a member of the research team under the direction of Eva Sapi, Ph.D. at the University of New Haven.
Additional highlights included further educational and thought provoking presentations including: Ginger Savely, DNP with a historical review of MD and discussion on diagnosis and treatment. In a much-anticipated segment, Dr. Savely enlightened attendees with live dermatoscopic exams using high-resolution microscopy; Ms. Middelveen, a microbiologist skilled in Medical Mycology, demonstrated through detailed contrast and comparison that there was no evidence to support fungal involvement with the etiology of MD. With a light-hearted flair, the subject of Pseudoscience was addressed by Lisa Wallace, RN, MSN, PHN. Her contribution, "A House Divided: The Detrimental Effects of Pseudoscience on the Quest for the Validation of Morgellons", was most informative and entertaining. A highly engaging session was the extended Q & A discussion. Questions submitted from emails and attendees were tackled by the panel of experts. Robert Giguere from IGeneX Lab contributed exceptional insights concerning detection of the pathogen, Borrelia burgdorferi. An "Around the World" reception with mixing and mingling was enjoyed by all on Saturday evening.
About The Charles E. Holman Morgellons Disease Foundation
The Charles E. Holman Morgellons Disease Foundation, based in Austin, TX, is a 501(c) (3) nonprofit organization committed to advocacy and philanthropy in the battle against Morgellons Disease. The foundation was named for Charles E. Holman, a pioneer in the fight against MD, and is led by Executive Director Cindy Casey-Holman, RN. The CEHMDF is the primary funding source supporting MD medical-scientific research; event proceeds will be used to further this mission. All donations are tax deductible. To learn more about Morgellons Disease go to http://www.MorgellonsDisease.org. The conference was recorded for educational purposes. DVDs will be available soon through the foundation's website.