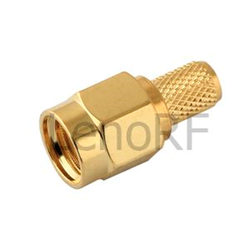 (PRWEB) April 17, 2014
LenoRF, a popular electrical equipment manufacturer, has released its new selection of SMA male connectors recently. According to the sales manager of the company, these items are now offered at promotional prices, up to 30% off. The special offer will last until April 28.
LenoRF is well-known for its excellence in high end products, amicable customer service and competitive prices. The company provides some of the most affordable electrical accessories on the market and specializes in offering related information for worldwide distributors. It has a variety of high end items that are available at wholesale prices.
The experienced company persists in employing professional investigators and designers with significant expertise in the electrical field. All its products are featured with high quality materials and outstanding workmanship. Also, it has exquisite production technology and strict quality control. Thus, it stands out from numerous suppliers in the global market.
To provide new and old clients with a simplified and secure shopping process, the company's website is updated frequently. The company develops very fast and it is now doing business with partners from around the world. All of that makes LenoRF one of the industry leaders.
About LenoRF
LenoRF is a famous global manufacturer of coaxial connectors and cable assemblies. The company has been specializing in the industry for several years and it insists on providing effective turnkey solutions for radio frequency system. Its customers include worldwide OEMs, distributors and system integrators from various fields like broadcast, land-mobile, wireless communications, microwave market sectors and so on.
For more information about it, readers can visit http://www.coaxial-connector.com/product/sma-connectors-male-for-rg-58-crimping/.