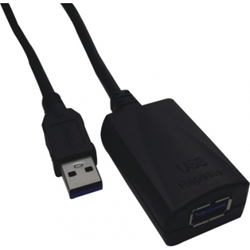 (PRWEB) April 17, 2014
Hiconn Electronics, a distinguished computer accessory manufacturer, has recently announced its new selection of 5 M Active USB 3.0 Repeater Cables. To attract more clients, the company is now providing big discounts on all its products. The promotion will be valid until April 30; all customers can get a discounted price (up to 30% off) before the deadline.
What's more, new and old clients can also search many other practical electronics accessories at the company's online store, including DisplayPort to HDMI Adapters, DisplayPort to VGA Adapters, 4-Port USB 2.0 Hubs and so on. To bring more benefits to its fans, the company launches special offers at times.
Here is some detailed information about the company's discounted p 5M Active USB 3.0 Repeater Cables:
--Extends and amplifies USB v3. 0 signal up to 5 meters;
--Data transfer up to 5Gbps in USB v3.0, up to 480Mbps in USB v2.0,up to 12Mbps in USB v1.1 and up to 1.5Mbps in USB1.0;
--Plug & play: easy installation and recognition under Windows;
--Compatible with USB and ACPI norms;
--Compatible with most of USB external enclosures, scanners, mouse, keyboard
--Support Windows XP/Vista/7/8/Mac OS V10+
--Length 5 Meters
Hiconn Electronics is a fast-developing company supplier in the market. It owes its rapid growth to the customer-oriented products and sincere services. Most of its items are famous for innovative designs and delicate craftsmanship, and all of them are available at reasonable rates.
About Hiconn Electronics
Hiconn Electronics (Shenzhen Hiconn Electronics Co. Ltd.) is devoted to designing and manufacturing a wide range of connection cables and customized cable assemblies, offering many HDMI cables, VGA cables, SATA cables, USB cables, 1394 cables, DVI cables, SCSI (Small Computer System Interface) and more. For more information, please visit http://www.hiconn.net/.
Contact Person: James Yin (Sales Director)
Company Name: Shenzhen Hiconn Electronics Co., Ltd.
Address: Shenghua Building., Xixiang Road., Baoan District, Shenzhen, Guangdong Province, China
Zip Code: 518102
Tel: +86-755-8109 8345
Fax:+86-755-2779 3497