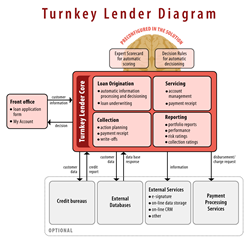 With Turnkey Lender, it does not matter whether you are an established company or a one-man startup, you can begin your on-line lending operations in no time.
Amsterdam, the Netherlands (PRWEB) April 17, 2014
Scorto is pleased to announce the launch of the Turnkey Lender, a comprehensive loan management solution for online lending, which enables advanced risk management and decision automation.
Scorto, a globally recognized company in the sphere of financial decision management and risk mitigation solutions and services, has developed Turnkey Lender in order to target online (and offline) lenders who wish to automate their business processes. Turnkey Lender increases the overall efficiency of all stages of the lending lifecycle.
From loan origination to debt collection, Turnkey Lender incorporates best practices from today's leading banks. The software does not require any specific skills and provides users with an easy way to manage decision flows, credit policies, reporting mechanisms and debt collection.
Users can choose only the modules needed and pay per use so that they aren't paying for services they don't need. This enables businesses to get up and running quickly even on a tight budget.
Mark Visser, Scorto's Director, commented saying, "We've spent years servicing financial institutions of various sizes worldwide, and lately we have observed a fast-growing trend in on-line lending. Businesses are searching for simpler and more cost-effective solutions to their loan management needs. This has come from not only established lenders, but also a growing number of new companies as well."
Turnkey Lender offers a user-friendly solution, which would be able to support the entire loan lifecycle and minimize credit risks through advanced scoring and screening of applicants. All expertise in risk management and process automation has been condensed in the form of out-of-box solutions.
Mark Visser added, "With Turnkey Lender, it does not matter whether you are an established company or a one-man startup, you can begin your on-line operations in no time."
The system has a modular structure with each block covering a separate functional area: loan underwriting, loan servicing and CRM, collection, portfolio analysis, and system administration. The Turnkey Lender also has a preconfigured set of decision rules, including a fraud prevention section; and the user can choose which rules to activate and what parameters to assign. For new ventures, the system offers an expert scorecard for internal credit risk scoring of the applicants.
Turnkey Lender is ideal for consumer lending, microfinance, payday loans and other types of unsecured loans. It can be easily connected to an on-line store or a financial institution's website. The product also allows integration with credit bureaus for automatic report retrieval, various payment services for automatic payment processing, accounting systems and other systems and data bases. The pricing model is flexible, and the low introductory rates will allow businesses to enjoy the fastest ROI in the industry.
About Scorto
Scorto is a globally recognized provider of decision management and risk mitigation solutions and services. Headquartered in Amsterdam, with seven international offices, we have served organizations operating in finance, telecommunications and insurance industries since 2005. Scorto provides extremely precise and effective tools and platforms that allow clients to make accurate and timely decisions, quantify their risks, and improve operational efficiency. Scorto has been named to the FinTech 100 for 2011 and 2012, as recognition for our market leading products and industry expertise. For more information, please visit: http://www.scorto.com/
About Turnkey Lender
Turnkey Lender is a subsidiary of Scorto Corporation, a globally recognized company in the sphere of financial decision management and risk mitigation solutions and services. With Turnkey Lender, businesses have access to 10 years of expertise in credit risk management and lending automation with a convenient out-of-the-box financial solution for any business type or size. For more information, please visit: http://www.turnkey-lender.com