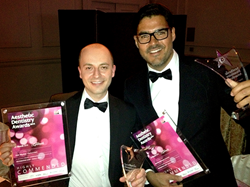 "We extend a hearty congratulations to Dr Brunner. This award reinforces our commitment to give our patients the best care with the most up-to-date dental technology and methods available."
Brighton and Hove, East Sussex (PRWEB UK) 25 April 2014
Brighton Implant Clinic, a leading dental implants centre in the UK, is proud to announce that one of its top dentists received the winning award for best single implant case, from the Aesthetic Dentistry Awards 2014. Dr. Frederico Brunner was also given "Highly Commended" recognition in the "Restorative Case- Single Arch" category.
The Aesthetic Dentistry Awards is the most prestigious aesthetic dentistry event in the United Kingdom. This year's event set a new record for event attendance, and took place on March 21, 2014. Dr. Brunner received the award for one patient case involving his highly specialised restorative treatment work at the Hailsham location. Petr Mysicka of Brighton Implant Clinic's on-site laboratory crafted the prosthetics for this patient's oral health needs.
The highly skilled dental implant surgeon, Dr Brunner draws upon over 10 years of experience in dental surgery when dealing with his patients' unique health requirements. Dr Brunner graduated from the University of Madrid and worked in Spain for 10 years as a dental surgeon before coming to Brighton Implant Clinic's Hailsham branch. He specialises in oral implantology, having completed post-graduate training and having attended several continuing education courses in the United States, Spain, and Cuba.
"We are exceptionally pleased to have Dr Brunner receive this award. Dr Brunner and his work are a great testament to Brighton Implant Clinic's clinical mission of offering the best-quality, patient-driven dental care that a person can find today," said Dr Bruno Silva, Principal Dentist at Brighton Implant Clinic. "We extend a hearty congratulations to Dr Brunner. This award reinforces our commitment to give our patients the best care with the most up-to-date dental technology and methods available."
Aside from the Aesthetic Dentistry Award, Brighton Implant Clinic has also won two awards from the Private Dentistry Awards. Each year, scores of people from the United Kingdom as well as from Europe and abroad come to Brighton Implant Clinic for their dental implant and oral health needs. The dental implants centre also encourages its dental team members to undergo continuing education as much as possible, for offering greater patient value.
This year's award recipients can be seen at the following website: (http://www.aestheticdentistrytoday.co.uk/awards/download/ada-winners-2014.pdf)