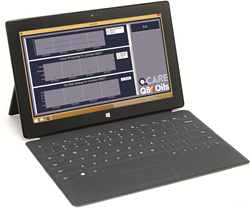 ...the QCare system is very compact, much more user-friendly on site, and allows data to be distributed instantly.
Leeds, UK (PRWEB UK) 2 July 2014
The new QCare service uses a network-enabled, tablet-based system with a bespoke 'app' that enables Q8Oils field service technicians to monitor fluids, complete their audits and deliver results while still on site. In addition, because FSTs are highly trained metalworking experts, when working with machine operators they may also be able to identify problems as their checks are completed, and help to rectify them.
A visual inspection and a variety of tests are conducted to ensure Q8Oils products are performing correctly. These include standard fluid parameters such as concentration, pH and microbiological content. They also offer advice that can help customers increase coolant life and optimise performance resulting in improved machining processes and reduced machine down time.
Customers can also logon to the QCare system using their own tablet or desktop computer, and view a full historical report at any time, and share it with colleagues.
In the past twenty years the FST system has moved from a 'paper' system requiring everything to be written down and multiple copies made, to an advanced and automated 'traffic-light' system that identifies conditions as Green (normal), Amber (caution e.g. adjust fluid concentration) or Red (immediate action required). As direct sales manager Jeremy Dineen explains: "The new QCare system is very much easier to operate, fully-automated and therefore much quicker, and will create a graphic chart to show a full history of any individual machine." He adds that the new system is very compact, much more user-friendly on site, and allows data to be distributed instantly.
The combination of Q8Oils' highly-trained field service technicians and modern tablet technology enables customers to streamline their metalworking operation by maintaining machine performance and saving significant costs. Regular monitoring can limit unscheduled costs by reducing man and machine down time to routine service stops, and saving unscheduled maintenance.
Ends
For further information contact:
Naomi Holden, Q8Oils
Knowsthorpe Gate, Leeds, LS9 0NP, UK
Tel: +44 (0)113 235 0555 Fax: +44 (0)113 248 5026
E-mail: Naomi.Holden(at)Q8Oils(dot)com Web: http://www.Q8Oils.co.uk
For press information contact:
Simon Cantillion, Cantillion King Advertising
16 The Cornhill, Stroud, Gloucestershire, GL5 2JT, UK
Tel: +44 (0)1453 755551 Fax: +44 (0)1453 751525
E-mail: simon(at)cka(dot)co.uk Web: http://www.cka.co.uk
Q8Oils has a unique, innovative and progressive approach when it comes to producing some of the World's finest quality lubricants. Q8Oils represent the very best and latest in lubricant technology and delivers this direct to customers across the Industrial and Automotive sectors.
For Q8Oils sales phone: +44 (0)113 236 5204 or email: Marketing(at)Q8Oils(dot)com
Q8 Oils offers a comprehensive lubrication solutions range in the following products:

Passenger car engine oils
Commercial vehicle engine oils
Marine engine oils
Outboard engine oils
Motorcycle engine oils
Automotive transmission and axle oils
Universal transmission oils
Gas engine oils
Food grade lubricants and greases
Hydraulic fluids
Plant maintenance oils
Demoulding oils
Quenching oils
Process oils
Neat cutting oils
Neat forming fluids
Soluble metal working fluids
Heat transfer fluids
Greases
Extensive range of ancillary products