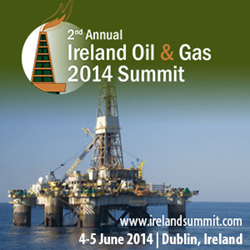 It's an IRN Summit!
London, UK (PRWEB UK) 22 April 2014
In addition, ION Geophysical Corporation recently announced their acquisition of the first major seismic survey of the underexplored deep-water Southern Porcupine Basin. Previous drilling results in the area have proven the existence of a petroleum system with significant prospects, but this new high-quality 3D data, expected to be available in early 2015, will offer much better geological knowledge. The revelation of structures with huge potential reserves will allow oil and gas companies to take the measure of the exciting opportunities and further develop the area.
The Porcupine Basin, which is already attracting significant interest ahead of the forthcoming Irish 2015 Atlantic Margin Oil and Gas Exploration Licensing Round, will be one of the core topics discussed at the 2nd Annual Ireland Oil & Gas 2014 Summit. Hugh Mackay, CEO of Europa Oil & Gas, the British E&P company owning highly prospective exploration assets in the offshore basin, will elaborate on why all the interest is in this Basin.
The Summit, organised at a crucial time when interest is rising in the Atlantic Margin west of Ireland, will also be an exclusive platform for networking; the majority of the companies who were awarded acreage in the recent licence round have developed their prospects and are now actively looking for partners to progress the exploration on their blocks. This is confirmed by Pat Rabbitte, Minister for Communications, Energy and Natural Resources, who agreed the State does not have the money to invest in drilling wells, so it needs to attract large exploration companies.
Ireland has been promising for years; with recoverable reserves for offshore west of Ireland, 2014 seems to be the year for oil and gas for Ireland. Indeed, the Summit will provide a unique opportunity to understand the full potential and get involved in the region.
More information can be found on the website http://www.irelandsummit.com.