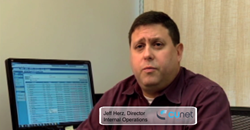 We have gone from about a 70% on time completion rate up to 95% or more on time completion rate for every task that our client has requested.
Frederick, MD (PRWEB) April 17, 2014
CUnet, a full-service, digital marketing agency specializing in identifying and recruiting students for the higher education industry and the 2014 Leads Council Leader Awards in Education Best in Class Compliance winner, was the focus of the latest case study video by Swift Software. The study showed significant increases in the delivery of on time project completion rates and accuracy of tasks completed through the implementation and use of task management software.
Since 2003, CUnet has helped colleges and universities reach enrollment goals through interactive marketing applications and technology. CUnet works with more than 800 schools, delivering industry-leading technology, media, and marketing services to help reach, recruit, and enroll students. The company had originally used spreadsheets to track tasks, but eventually this became inadequate for their growing business needs. JobTraQ, a task management software system, was implemented to bring all the tasks together within one project.
Jeff Herz, Director of Internal Operations at CUnet, was very impressed with the results his company received. Herz said, "We have gone from about a 70% on time completion rate up to 95% or more on time completion rate for every task that our client has requested. We have been able to implement and complete it much more thoroughly and much more accurately."
The case study detailed the use of task management software for tracking large quantities of tasks and streamlining organization processes throughout multiple departments. With the additional visual workflow features that come standard with the JobTraQ system, CUnet was able to quickly and easily implement new processes into their procedures. "It takes us about a week from the point in time where we identify what it is exactly that we need, implement the workflow, and then release it to the team." Herz said. "Everybody talks about how simple the system is to use and how straightforward and how they get all the information they need in a single place."
Swift Software, makers of JobTraQ, provide an enterprise level task management and visual workflow software system that makes companies more competitive and efficient in their various markets. Clients who have successfully and rapidly implemented this agile solution include Fifth Third Bank, AutoZone, TOTAL Oil and Gas, MiSWACO, and the FDA. To learn more about how JobTraQ Task Management and Visual Workflow software can improve your workplace productivity, request a free live demonstration of the product.