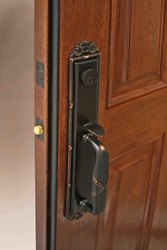 With the introduction of Embarq and our new EnVision program, we are strengthening our commitment to leadership in energy efficiency.
(PRWEB) April 17, 2014
ProVia, a leader in exterior building products, today announced the launch of the company's new Embarq™ Fiberglass Entry Door System, the most energy-efficient entry door available in the U.S. market. Embarq's performance was independently tested by Architectural Testing, Inc. (ATI), a leading building products testing and certification laboratory in North America.
As ProVia set out on the journey to develop this new entry door, it expanded into a complete philosophy of creating unrivaled efficiency in home building products. This new way of thinking is called "EnVision", and its first creation is Embarq – the doorway to innovation and efficiency.
Key Features of Embarq Fiberglass Entry Doors

Embarq doors provide a U-factor of 0.10 (U-value is a measure of resistance to heat conduction – the lower the better).
To enhance efficiency and accommodate more insulation, the Embarq fiberglass entry door is two and a half inches thick, which is 43% thicker than standard exterior doors.
An integrated channel in the side rails and header of the door allows for even more energy-efficient foam.
A dual perimeter seal to create a nearly impenetrable barrier against drafts and energy leaks.
A custom-designed sweep which accommodates the door's added thickness and keeps out unwanted elements and uncomfortable temperatures.
Available in six popular door styles and three wood grain species: Cherry, Mahogany or Oak.
ProVia's patented process allows a different series, style and finish to be used on each side of the door.
Lifetime Limited Warranty on the door structure, and 10-Year Finish Warranty.
"As a company, ProVia has always emphasized energy efficiency and pursued continuous improvements with high energy-performing products," says Brian Miller, President of ProVia. "With the introduction of Embarq and our new EnVision program, we are strengthening our commitment to leadership in energy efficiency."
For more information, view the Embarq video at http://www.proviaproducts.com/embarq or visit ProviaProducts.com.
About ProVia®
Headquartered in Sugarcreek, Ohio, ProVia is a leading manufacturer of professional-class entry doors, storm doors, patio doors, windows, vinyl siding and manufactured stone. The professional-class designation reflects the company's high level of quality, service and customization. ProVia has been an ENERGY STAR® Partner with the Environmental Protection Agency and the U.S. Department of Energy since 2002, and has won the prestigious ENERGY STAR Partner of the Year award for Door Manufacturing four times, and the ENERGY STAR Sustained Excellence award four times. The company employs approximately 500 people at its headquarters and manufacturing facilities in Sugarcreek, Walnut Creek, Baltic and Zanesville, Ohio, and Booneville, MS. For more information, visit ProviaProducts.com.
About ATI
Founded in 1975, Architectural Testing, Inc. is a leading testing laboratory, certification body and inspection agency for building products and the built environment. Employing highly specialized technicians, engineers, and support professionals across 20 locations in North America and now teamed together with Intertek's global capabilities, Architectural Testing is the Complete Solution for evaluation, testing and certification. Visit Archtest.com.