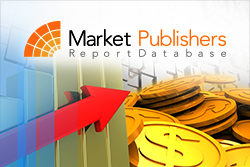 London, UK (PRWEB) April 16, 2014
Market Publishers Ltd is announced as a media partner of the 6th annual Infrastructure & Property Development MEA Summit. The event will be held on May 18-19, 2014, in the most populated city of the United Arab Emirates, Dubai.
The 6th annual Infrastructure & Property Development MEA Summit is going to convene in Dubai this May, targeted to creating a high-level communication platform and speeding the infrastructure and property development via effective collaboration between sellers and buyers. Attendees, including world class regional real estate developers and project consultants as well as infrastructure authorities, will enjoy a cordial atmosphere during a focused discussion of major new driving forces expected to impact the urban skylines in the upcoming years.
Event Details:
Infrastructure & Property Development MEA Summit
Date: Sunday 18 May 2014 – Monday 19 May 2014
Location: the Park Hyatt Dubai – Dubai, the United Arab Emirates
http://marketpublishers.com/events/Infrastructure_Property_Development_MEA_Summit.html
Key Themes for 2014 Encompass:

Economy Watch – Reviewing the sustainability of the regional economy to open hidden pockets of opportunities and profits
Outstanding Design – Performing a delicate balancing act by adopting a superior level of quality, sustainability and convenience within allocated budgets
Optimal Master Planning – Validating development plans to showcase the booming market and deliver profit-generating products
Expansion on the Horizon – Driving growth and increasing investor options through the creation of mega projects
Hospitality Outlook – Evaluating the key success factors to align the interests of owners and operators to develop successful hotel ventures
Green Talk to Green Walk – Harnessing sustainable strategies to achieve strong energy performance and prevail over the competition
Buoyant Budget – Forming leading edge alliances and schemes to maximise project financing
Property developers, hotel developers and operators, general contractors, and public authorities, among others, are expected to join the Infrastructure & Property Development MEA Summit this year.
The Summit 2014 is going to be a great success, which is sure to equip you with valuable insights into the industry!
Please note that MarketPublishers.com subscribers are eligible for special discounts off the full registration ticket price.
To register at MarketPublishers.com please visit our Registration Page.