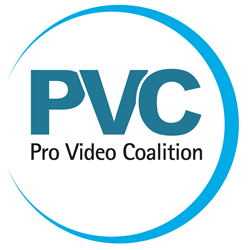 Portland, Maine (PRWEB) April 16, 2014
ProVideo Coalition, the leading online news resource for video professionals, will host a free PVC Experts & Answers: NAB 2014 Wrap-up Webinar on Wednesday, April 30, 2014 at 11:00am PT. The webinar will target various topics that arose from 2014 NAB show, which was recently held April 5-10 in Las Vegas, Nevada.
This 60-minute webinar features writers Scott Simmons and Matthew Jeppsen as they talk through what they saw and didn't see at NAB this year. Highlights from the event will be showcased and they will discuss what those highlights mean to individuals and to the industry as a whole. Simmons and Jeppsen will also talk through what was different about the show this year and what really stood out for them. As with all PVC Experts & Answers Webinars, they will also have plenty of time for questions, and participants are encouraged to send their questions before and during the webinar.
Registration is free for the PVC Experts & Answers: NAB 2014 Wrap-up Webinar. To register, click HERE.
About ProVideo Coalition l http://provideocoalition.com/
ProVideo Coalition brings together the industry's best writers, bloggers and video gurus under one URL. Each writer maintains their own blog, with the site's content management system dynamically sharing articles, tutorials, reviews, video clips and other media across the individual channels or sites. PVC has become the leading resource for video professionals, including studios and independent filmmakers. This award-winning site provides comprehensive information on both production and post-production in multi-distribution film, online, mobile, and broadcast environments.
About Diversified Communications l http://www.divcom.com
Diversified Communications, based in Portland, Maine, US provides information and market access through face-to-face events, publications and online. Diversified serves a number of industries including: floral, seafood, foodservice, natural and organic, healthcare, commercial marine and business management. Diversified operates divisions in Australia, Hong Kong, India, the UK and Canada.