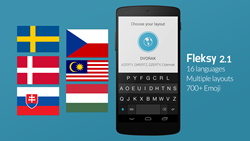 San Francisco, CA (PRWEB) April 16, 2014
Fleksy, the award-winning touchscreen keyboard company, today released Android version 2.1, representing a major international growth push for its technology.
The release introduces dynamic layouts for international languages, including AZERTY, QWERTZ, and QZERTY keyboard layout options. The release also adds support for several new languages including Swedish, Hungarian, Danish, Slovak, and Czech, taking the total number of languages supported by Fleksy to 15.
"Two thirds of Fleksy downloads have come from outside of the United States, showing a very strong demand for a better typing experience from international markets," said Ioannis Verdelis, founder and COO of Fleksy. "We have been adding support for one new language a week since launch, and we will be accelerating this push in the coming months"
Fleksy has now been downloaded in 205 countries, with countries like Germany, India, Russia and Italy in the Top 10.
Version 2.1 also introduces support for alternative keyboard layouts, DVORAK and Colemak. The popular layouts are now available for all languages supported by Fleksy.
"Our app allows users to vote for their language to be supported - we now get 35,000 requests for that feature every single week," said Kosta Eleftheriou, Founder and CEO of Fleksy.
About Fleksy
Fleksy is a revolutionary keyboard powered by patent-pending technology that makes typing on any device fast, accurate and so easy you can type without looking.
Its unique language algorithm founded on Geometric Intelligence moves beyond text prediction and autocorrect to give a much more accurate and easier typing experience than other keyboards.
Winner of the 2013 CES Innovations Design and Engineering Award, Fleksy is the first keyboard app to be demonstrated on a 3D gesture system (Leap Motion); the first to be demonstrated on a smartwatch (Omate) and the first to arrive on iOS.
Fleksy's award-winning design and technology is backed by venture capital firms including Highland Capital Partners and Kleiner Perkins Caufield & Byers.
To learn more about Fleksy, visit http://www.fleksy.com.