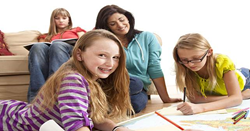 More firm policies need to be applied as soon as possible to protect children and adults from the unkind acts of bullying and harassment.
London, UK (PRWEB) April 25, 2014
Bullying is no laughing matter. Its ill effects can be felt in schools all across the country. Unless measures are taken to curtail this problem, it could have a devastating effect on the quality of education received by thousands of middle school and high school students. NoBullying releases today a guide on Anti-Bullying Policies.
To date, approximately 41 states across the United States have adopted anti-bullying policies and laws to fight against bullying in public and private schools. Although bullying is manifested in social and professional settings as well, the effect it has on children in a school environment is often more harmful, as repercussions can be felt well into the person's adult life.
The guide lists the consequences of bullying whether short term or on long term basis for children and adults and goes into several policies for prevention of bullying.
Most schools review their anti-bullying programs on a regular basis to assess their effectiveness. Schools may make minor or major changes in their policy to ensure it continues to reflect their specific needs as well as remain relevant in relation to modern times. Schools that have been consistent in their efforts to combat bullying and have been diligent to enforce policy rules and regulations have seen progress and success.
Reduction in abusive behavior signifies that anti-bullying programs are well worth the effort. By reducing bullying on their premises, educators can focus on their main objective of teaching. Students can enjoy happier, more productive learning experiences that benefit their future.
Changing a student's abusive behavior is another means of putting an end to bullying in schools. Counseling and moral education are conventional means of accomplishing this objective. Many schools are discovering alternative means for helping students change errant mindsets that negatively influence their behavior such as anti-bullying activities. Through the use of art, drama and music, teachers may be able to exert a positive influence on bullies, exposing negative and destructive attitudes and reinforcing constructive mindsets in their place.
Macartan Mulligan, Co-Founder of NoBullying.com, said, "With this guide on anti-bullying policies, schools and legislators need to be reminded that bullying is not a rite of passage, more firm policies need to be applied as soon as possible to protect children and adults from the unkind acts of bullying and harassment."
He added that parents and teachers should make a point to educate the younger generations about the sad outcome of bullying online and offline. According to Mulligan, it is quite imperative to press for more firm laws condemning all acts of bullying and harassment.
NoBullying.com features many pages dedicated to parents, teens, teachers, health professionals as well as posts related to cyber safety and the latest news about law making concerning curbing Bullying worldwide as well as inspirational Bullying Poems and famous Bullying Quotes.
The website regularly updates its bullying statistics and cyber bullying statistics as it is essential to understand how widespread the bullying epidemic is. It also regularly runs cyber bullying surveys and questionnaires to get recent updated statistics on everything related to cyberbullying.
He also added that anyone suffering from bullying in any form or way can always find advice and help on the NoBullying website – but if anyone is suffering from severe bullying or cyber bullying, the best thing is to talk to someone locally – a parent, teacher or local organization that has been set up to help with specialized counselors to deal with this topic.