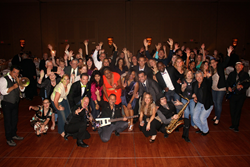 Miami, FL (PRWEB) April 21, 2014
Branches celebrated its 11th Annual Black Tie & Blue Jeans benefit dinner and auction on Friday, April 4th, 2014 at the Trump National Doral in the beautiful Legends Ballroom. Over 300 guests attended and helped to raise over $170,000 for Branches' programs providing services to low-income children, youth and families.
The event kicked off with a cocktail reception and a silent auction, followed by dinner and dancing, as well as an appeal and an exciting live auction. All proceeds from the appeal will go towards the Branches children and youth programs and all donations will be tripled since they are matched $1:$1 by a generous Challenge Grant.
Branches was very proud to have shared some exciting news with the evening's guests which included being selected as a Miami HEAT Learn and Play Center, chosen by Aramark as a recipient of their Global Volunteer Day which included the creation of a community garden and outdoor classroom, and the announcement and naming of 2 Branches facilities, the Trish and Dan Bell Family Branches Center – Florida City campus and Lakeview campus.
Thank you to the Black Tie & Blue Jeans Benefit Dinner Committee Chairs Laurie Zapletal and Jonah Pruitt III, and their fantastic committee members who helped to make this event possible. We also appreciate the kind support from our Advisory Committee: Trish & Dan Bell and Sister Jeanne O'Laughlin.
In addition, a huge Thank You to all Black Tie & Blue Jeans Sponsors:
Trish and Dan Bell
The Batchelor Foundation
Sandy and Rod Bell
BB&T
City National Bank
Gerson, Preston, Robinson & Co. P.A.
Holland & Knight
PNC Bank
Regions Bank
Center for Social Change
Lauren's Kids
About Branches
For over 40 years, Branches has made a positive impact in the community by delivering on its mission to serve, educate and inspire people through student, family and financial stability services. Branches provides long-term, holistic services for motivated individuals and families. We help people grow deeper and climb higher in life by building a foundation through education so they can achieve their goals and fulfill their potential. For more information about Branches, please contact Isabelle Pike at 305-442-8306 x1002 or ipike(at)branchesfl(dot)org or visit Branches at http://www.branchesfl.org.