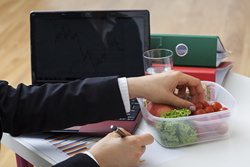 Lockton's strategic model is built on the concept that claims follow risk, where risk reduction becomes an outcome of disease and lifestyle management programs.
New York, NY (PRWEB) April 18, 2014
A recent study exploring trends in corporate wellness underscores the value of initiatives aimed at reducing chronic illness, but found no net savings at all from lifestyle management programs—those aimed at reducing health risks through initiatives focused on weight loss or stress management. +
The study, conducted by RAND researchers and executives of PepsiCo, praised programs aimed at helping the chronically ill to stay healthy through education and reminders to take their medication. These programs resulted in significant cost savings, but the same could not be said of lifestyle management programs.
The study examined more than 67,000 people eligible to participate in PepsiCo's "Healthy Living" wellness program, which includes both disease management and lifestyle components for employees and their families. (PepsiCo provided funding for the study.) Researchers found that seven years of continuous participation in the program — whether in its disease management component, its lifestyle component, or both — resulted in an average monthly reduction of $30 in health care costs per member. But when researchers looked at each component separately, they found the savings was largely attributable to disease management."
Cost Savings from Chronic Disease Management
"Yes, it's not surprising that the majority of the savings were due to improved management of chronic disease conditions," says Lockton's Director of Health Risk Management Kate Hansum.
"At Lockton, we stratify an employer's workforce membership by risk, noncompliance, cost and condition in order to prioritize actionable targets to assist an employer's health plan in closing gaps in care. In a sample population, non-compliant high-risk members cost almost $300 per member per year more than compliant high-risk members," says Hansum.
"The study noted that the decrease in costs was primarily due to a 29 percent reduction in hospital admissions. In addition, improved management of chronic disease often reduces emergency room visits, which, according to Lockton's InfoLock data warehouse, costs an average of 9.24 times more than a physician office visit. These decreases in admissions and emergency room utilization represent low hanging fruit opportunities for shorter-term cost reduction."
Commenting on PepsiCo's "Healthy Living" program, which resulted in improved management of disease and related cost savings, Hansum notes that all disease management programs are not created equal.
"There can be significant variation in program performance due to lack of employer-specific member identification, poor member engagement and/or the level of comprehensive care gap and improved clinical outcome strategies and interventions," she says.
The Bottom Line for Lifestyle Programs
Researchers acknowledged that lifestyle programs like smoking cessation or weight loss may indeed save organizations money, but over a longer period of time. But the study concludes that employers and policy makers "should not take for granted that lifestyle management components can reduce health care costs or even lead to net savings."
"I agree with the study's conclusion that lifestyle management programs should not be implemented for the sole purpose of attaining reduced health care costs or a net savings. However, researchers noted that the greatest savings achieved resulted from those participating in both the disease management and the lifestyle management programs, including a 66% drop in hospital admissions. The improved financial performance may be due to better targeting of participants, the study suggests, and I agree: Targeting members with disease management opportunities and additional lifestyle issues replicates the right approach to risk reduction," adds Hansum.
Hansum says Lockton's strategic model is built on the concept that claims follow risk, where risk reduction becomes an outcome of disease and lifestyle management programs. While highly compliant workers cost less than those who are non-compliant, both categories need to reduce risks to slow the progression of disease and reduce costs.
"At one client, moderate risk members cost $5,105 per member per year compared to low risk members whose costs were $1,413 per member per year, which is 360% higher. High-risk workers cost $12,514 per member per year, which equates to an increase of 245% compared to moderate risk members, so the opportunity can be quite significant," says Hansum.
Elimination of Lifestyle Programs Unlikely
Researchers stopped short of suggesting the elimination of lifestyle management programs that didn't demonstrate big cost savings:
"That would be unlikely," said Helen Darling, president of the National Business Group on Health, who is quoted in the article. "Keeping workers healthy can prevent them from developing high-cost diseases, like diabetes, and these programs aren't just there to save money per se," she said, alluding to the value of recruiting talented workers at companies who've demonstrated a strong commitment to health. It sends a message that the company cares about people, and attracts workers who want to work at a company that demonstrates a culture of health, Darling said.
Hansum concurs, concluding: "Improving or eliminating lifestyle risks is the first line of defense to keep workers healthy and to mitigate the progression of disease. It seems unlikely that incentives or focus on lifestyle risks will be eliminated at any employer who is serious about health strategies to improve the health, well-being and productivity of their workforce. Comprehensive wellness models employ multi-layer strategies that target the healthy, as well as those most at risk and non-compliant, including the high cost/complex cases. Employers who use them are typically committed to transforming to a healthy culture and environment, including financial health, work-life balance and human capital investment."
If you have any questions about wellness initiatives at your organization please reach out to me by email at RRuotolo(at)Lockton(dot)com
+ http://robruotolo.com/wellness-study-lifestyle-management-programs-may-not-help-bottom-line/