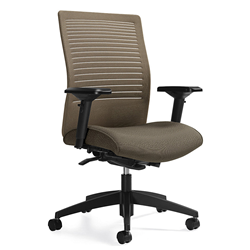 Proper support ensures proper alignment of the upper body, which includes the neck, shoulders and upper back.
Medfield, MA (PRWEB) April 17, 2014
Long hours working at a desk while sitting takes a toll on the person in the chair. Comfort depends on many factors such as being able to move freely while seated and changing positions frequently.
Backcare Basics and Global Total Office are introducing the Loover office chair. This office chair employs a new and unique weight sensing mechanism that automatically adjusts the tilt-tension of the chair without the need for user intervention. The Loover is the first with this feature presented for sale by Backcare Basics and we think it will become the design of choice for those looking for ease of use in addition to ergonomic comfort.
This innovative synchronized system incorporates the next generation features of intuitive ergonomics that benefits everyone using this chair. The combination of the automated adjustments and the stretch mesh incorporated into the Loover's design work together to promote healthy movement, proper spinal alignment and comfort.