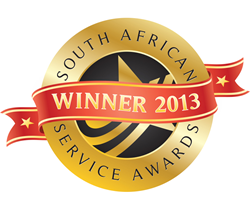 Every aspect of our business is focused on making our customers feel they are valued and appreciated.
Pretoria, South Africa (PRWEB) April 18, 2014
Short-term insurance newcomer King Price has continued on its path of toppling industry incumbents by claiming top spot in two categories in the 2013 South African Service Awards.
Launched in 2012, King Price has ruffled industry feathers with its unconventional approach to short-term insurance. Spurning entrenched industry marketing tactics, the independent short-term insurer has gained wide appeal and a rapidly growing customer base for its no-nonsense, no-frills approach of putting the customer first.
This was affirmed with the overwhelming thumbs-up its customers gave in voting King Price Insurance the number one short-term insurer in the South African Service Awards. This premier customer-driven service awards structure was established in 2011 to recognise outstanding customer service.
The 2013 awards ceremony was held on Friday 11 April at the Fire & Ice Hotel at Melrose Arch, Johannesburg. King Price was also recognised as the Highest Ranked New Performer.
The awards scheme is unique in that consumers vote directly for brands they believe deliver exceptional service in the financial services, security, telecommunications and travel and related services sectors.
"It's not only tremendously humbling, but immensely pleasing to receive this recognition from our customers that we are living up to our promise of delivering royal service," says King Price founder and CEO, Gideon Galloway. "Our simple proposition is that customers can receive world-class insurance at a price that is fair, backed by outstanding service levels."
King Price has managed to carve a niche in the market by focusing on what matters: price, service and delivery. One of the cornerstones of the King Price offering is premiums that decrease every month in relation to the depreciation in the value of the car insured.
"This is a simple philosophy that says why wait a year to revalue the risk?" Galloway explains. "We're not carrying the same risk, so why should our customers be penalised by effectively being over-insured for most of the year?"
King Price's lean, technology-driven model that is free from bloated operational costs, structures and demanding shareholders has allowed it to offer products that compare favourably in the market, at a much lower price.
"Every aspect of our business is focused on making our customers feel they are valued and appreciated, which has been justified by the recognition we have received in these awards. To have received this accolade in our first year of operation is due to this relentless focus on the customer, but equally evidence that the industry has some way to go to delivering the type of service that consumers deserve and demand," concluded Galloway.