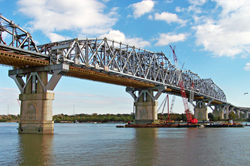 "The robustness of the original design as well as the bridge being well-maintained since its original construction were both huge factors in our ability to expand instead of build new." - Bruce Peterson
New Orleans, LA (PRWEB) April 17, 2014
The widening of the Huey P. Long Bridge, a rail and highway bridge vital to commerce in the city of New Orleans, has been recognized by the National Steel Bridge Alliance with the prestigious Prize Bridge Award in the Reconstructed category. The project also received a special Sustainability commendation. Bridge engineering firm Modjeski and Masters led the $1.2 billion expansion.
NSBA recognized the project for innovative concepts that enabled the bridge to be retrofitted rather than replaced. The project incorporated improvements on a scale that had never before been done, while at the same time maintaining vital freight and passenger rail service and marine and vehicular traffic.
"Modjeski and Masters has a long history with the Huey P. Long Bridge as the original bridge was designed by one of our founders, Ralph Modjeski," said Bruce Peterson, senior associate and project manager. "In the 1930s, Ralph was known for his use of engineering firsts in his designs. The robustness of the original design as well as the bridge being well-maintained since its original construction were both huge factors in our ability to expand instead of build new."
The widening of the Huey P. Long Bridge included the addition of shoulders and a new travel lane in each direction, expanding the bridge from two 9-ft. travel lanes to three 11-ft travel lanes in each direction. The seven-year project was divided into four phases: main bridge pier widening, rail modifications, main bridge truss widening and construction of new approaches. The project reached substantial completion on June 16, 2013 when it fully opened to all travelers.
The Huey P. Long Bridge expansion has received widespread industry acclaim, earning more than 15 awards for engineering excellence. It was named an Historic Civil Engineering Landmark by the American Society of Civil Engineers (ASCE) in 2012 and was a finalist for the ASCE Outstanding Civil Engineering Achievement Award for 2014. The bridge's expansion has been featured in Civil Engineering Magazine and Modern Steel Construction among others.
About Modjeski and Masters
Modjeski and Masters is one of the world's leading bridge engineering firms, with a reputation for technical excellence and innovation that goes beyond current standards. Established over 120 years ago, the firm has been responsible for the design and maintenance of some of our nation's most recognizable structures. Services include fixed and movable bridge design, inspection and rehabilitation, and all facets of lifecycle maintenance, research and code development. For more information, including in-depth videos of Modjeski and Masters at work, please visit http://www.modjeski.com.