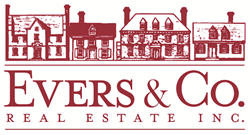 Washington, DC (PRWEB) April 16, 2014
The Washington D.C. residential real estate market showed its lowest inventory numbers in the last decade, due to lingering winter weather conditions. The extended winter has caused an epidemic of pent-up demand throughout the area. As the weather warms and more homes become available, the buying competition will be fierce.
"More than fifty percent of our sales this month have been multiple contract competitions," says Donna Evers, president and broker of Evers & Co. Real Estate. "I believe we're going to see a very competitive spring market that will most likely last well through the summer."
Evers advises buyers to take steps to increase their edge when heading out to view prospective homes.
"Think outside of the typical parameters when looking for a home," she says. "If you are only looking at homes that are perfect and priced well, you will face highly competitive bidding situations. Instead, find homes that may need a little more work. Often the asking price of the home, together with the cost of fixing it up, will end up being less than the cost of buying a home in impeccable shape that gets bid up in a multiple contract competition."
Nevertheless, the Washington, D.C. housing market remains one of the strongest and most resilient in the nation, which spurs buyers to make the investment.
*Statistics are taken from the Metropolitan Regional Information System for three areas: Washington, D.C.; Montgomery County in Maryland; and Fairfax County, Arlington, Alexandria and Falls Church in Virginia.
About Evers & Co.
Founded in 1985 by Donna Evers, Evers & Co. Real Estate, Inc. maintains its success through a strong referral base and agents who enjoy a premier reputation for their expertise and in-depth knowledge of Washington Metro Area homes and neighborhoods. Evers & Co. is home to more than 100 licensed real estate professionals with decades of combined experience, who enjoy access to a first-of-its-kind Agent Resource Center. The agency is the largest woman-owned and-operated residential real estate firm in the area and a member of Unique Homes Affiliate Network, Who's Who in Luxury Real Estate and FIABCI, the largest international real estate organization in the world. In addition, the agency has an alliance with My Home In Paris, a residential real estate firm in Paris, France. For more information about Evers & Co. Real Estate, visit http://www.eversco.com.