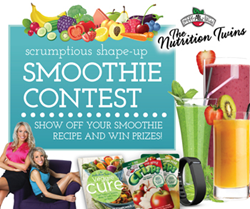 show off your favorite smoothie recipe for a chance to win prizes
Rochester, NY (PRWEB) April 17, 2014
Smoothies have become extremely popular as a quick, healthy breakfast option and as an easy way to add essential nutrients to your daily diet. However, not all smoothies are healthy; it's important to use only healthy, nutrient-rich ingredients. That's why The Nutrition Twins, nationally recognized registered dietitians, nutritionists, and personal trainers, teamed up with Brothers-All-Natural, makers of healthy, freeze-dried Fruit Crisps made with 100% real fruit, to cosponsor the "Scrumptious Shape-up Smoothie Contest".
The contest is a fun way to learn tips to create a healthy smoothie recipe and an opportunity to show off your favorite smoothie recipe for a chance to win prizes. The Grand Prize winner will receive a Fitbit® Flex, a copy of the Veggie Cure, the newest book from the Nutrition Twins, and $100 gift certificate to brothersallnatural.com. Additionally, there are 13 runner-up prizes and the top 50 recipes will get featured in a smoothie recipe ebook.
For those that do not have a smoothie recipe to enter in the contest, but would rather receive healthy smoothie recipes, they can simply go to blog.brothersallnatural.com and sign up to receive a free copy of the "50 Scrumptious Shape-up Smoothie Recipes" ebook. The expected release date is June 1, 2014.
The Shape-up Smoothie Contest runs until April 30; winners will be announced May 5, 2014. For more information visit blog.brothersallnatural.com
About the Nutrition Twins
The Nutrition Twins are renowned for their approachable, common sense style and uncommon recipes. They make getting healthy feel easy, fun and tempting. They have 15 years of experience helping thousands of clients to boost their energy naturally, get healthier, be happier and reach tip-top shape. Through their books, media appearances, nutrition counseling, lectures and blogs, they've built an innovative and inspiring brand that empowers people to take charge of their health and create changes that last a good, long lifetime.
For more information about the Nutrition Twins please visit their website at nutritiontwins.com
About Brothers International Food Corporation
Brothers International Food Corporation is a privately owned food and beverage company based in New York with offices in North Carolina, China and Ecuador. The company was founded in 2001 by brothers Matt and Travis Betters, whose family was involved in the processed fruit and vegetable industry for more than 65 years. In addition to supplying top-quality fruit and fruit juice concentrates to a number of Fortune 100 food companies, Brothers International is the parent company of Brothers-All-Natural, producing all-natural 100% freeze-dried Fruit Crisps and Fruit & Oats, and Lost Vineyards, America's #1 ultra value wine importer.
For more information about Brothers International please visit their website at brothersinternational.com