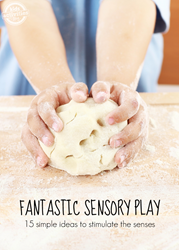 Kids love to play with shaving cream.
Dallas, Texas (PRWEB) April 29, 2014
Sensory play is important for kids of all ages. Fantastic sensory ideas and magical DIY forts have been published on Kids Activities Blog. Stimulating the kids' senses encourages them to explore more.
Seasoned Moms are sharing simple and inexpensive ways to ignite sensory play. Shaving cream makes a great medium for sensory play. Shaving cream is inexpensive and easy to clean up.
Making gooey ziplock bags out of baking soda and vinegar is both fun and easy to do. Let the kids choose their favorite food coloring to dye the mixture.
Another ingenious idea is to let the kids have a blast with shredded paper. Simply put a table cloth beneath the play area and let them have a blast. Activity cubes, foam doughs, lights, and cloud dough are other great sensory ideas.
Building forts teach kids a lot of valuable lessons. It encourages the kids to be creative. The Fort Magic Kits are perfect for families with little fort building enthusiasts. The kits are adaptable to any indoor or outdoor area and easy to set up and store in the closet.
The fort kits come with simple instructions to build submarine forts, castle forts and all kinds of fun buildings. The designs are tall or flat and the instructions can be easily followed by even the youngest fort builder.
Building forts encourages creativity. It develops spatial reasoning, problem solving skills, and team work. Kids will get a better understanding of sequencing and pattern.
The magical fort kit promotes independence. Kids are encouraged to follow the simple steps independently to build their dream hideout. Once completed, the kids will feel a sense of accomplishment and pride. What a wonderful experience.
For detailed instructions and to get additional fun ideas, check out Kids Activities Blog this week. Come get inspired to have a magical time building forts this month.
About Kids Activities Blog
Kids Activities Blog is a website created by two moms (who collectively have 9 children), Rachel Miller and Holly Homer from June Cleaver Nirvana. It is their daily goal to inspire parents and teachers to play with kids. This interactive website publishes simple things to do with kids twice a day. Kids Activities Blog is a great tool for moms and teachers to find kid-friendly activities that create memories and sneak learning into the fun.