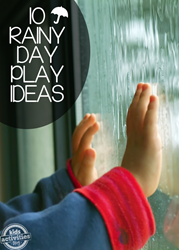 Do not worry about being stuck inside the house. Instead, use it as an opportunity to play fun games.
Dallas, Texas (PRWEB) April 25, 2014
April is definitely the month for rainy days. Rainy day play ideas and a gallery of silly activities for kids have been published on Kids Activities Blog. Do not worry about being stuck inside. Instead, use it as an opportunity to play fun rainy day games with the entire family.
Rain games top the list of favorite activities this week. Engage the kids by building an egg carton caterpillar. Teach them about the season of caterpillars this month with this exciting craft.
Play a fun glow in the dark tick tack toe game in the kitchen when it is dark due to the cloudy sky or due to a power outage.
Let the kids have a blast turing food and other objects found around the house into stunning art. Let them have a blast being creative. Another super fun activity is skiing inside the house. Build a set of skis using cardboard and empty plastic soda bottles.
Being silly is perfect to bring happiness to the entire family. It is OK to be silly as a parent every once in a while by letting out the inner child. The silly ideas are easy to do with items found around the house.
Silly activities include making paper mustaches to put on straws for breakfast, drawing silly faces on tin cans as end of year teacher gifts, and making silly faces on plates with food.
The laundry list of pranks for and by kids is another great resource for laughter. Smiley crafts include a silly coin art, a shoulder pet project, and a tutorial to make silly magnetic faces.
Silly games include photo shoots with smiles on a stick, a goggly eye toss game, and playing silly chin puppet games.
For detailed instructions and to get additional fun ideas, check out Kids Activities Blog this week. Come get inspired to let the kids play fun games that even sneak in a bit of learning.
About Kids Activities Blog
Kids Activities Blog is a website created by two moms (who collectively have 9 children), Rachel Miller and Holly Homer from June Cleaver Nirvana. It is their daily goal to inspire parents and teachers to play with kids. This interactive website publishes simple things to do with kids twice a day. Kids Activities Blog is a great tool for moms and teachers to find kid-friendly activities that create memories and sneak learning into the fun.